This F-104G shows the "Mount Olympos", a special painting of the 336th (Strike) Squadron of the Hellenic Air Force from the beginning of the 1990s.

I got the old Revell kit (#H-236) as a present a certain time ago and I decided from the beginning to make the "Mount Olympos" out of it. I bought the nozzle and the Martin Baker ejection seat from Aires and added a pilot figure from PJ Production. All those resin parts are perfectly detaillied.

The Aires-nozzle was a bit too large in diameter for the old Revell-kit (it´s recommended for the Hasegawa kit), so I had to make the rear of the fuselage a bit wider by gluing a plastic profile (1x1 mm from Evergreen) between the halves on the lower side.

I had to move the cockpit about 2 mm downwards, so that the helmet of the figure does not collide with the canopy. The pilot from PJ fits perfectly to the ejection seat from Aires.

But there was not enough room for the instrument panel, so I had to make it shorter, which is not so bad, because it´s hard to see on the finished model.

On the outside I added some smaller details I built from scratch (pitot tube, anti-collision lights, antenna behind radom and the angle of attack encoders beside the cockpit).

To see where the blue and white painted areas beside the decals begin, I made a scan of the original decal sheet. When I printed the decals for the vertical stabilizer and the front fuselage. I attached my self made decals on the model. So I could paint the model with enamels from Humbrol and Revell (brush) and after that I placed the original decals above. The quality of the Icarus decals is really excellent, they are printed in a high qualitiy and even the very large decals cause no problems. Also the instructions from Icarus coudn´t be better: It shows a 4-side-view and some pictures of the real plane, further you get information about the mixture of the blue and information about this F-104.

To seal the model I used silk, clear varnish from Mr. Hobby.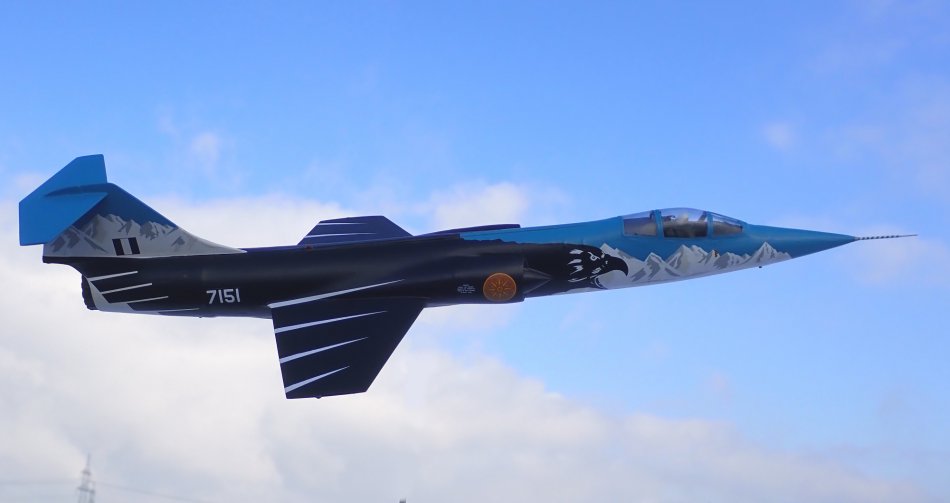 I´m happy to have a model of his beautiful painted Starfighter in my collection now!

Here you can see it in action, very cool flying: https://www.youtube.com/watch?v=rkPNENFjuiM

Greetings from Germany
Thomas Brückelt