The Horten IX V1 was the first prototype of the legendary flying wing. It´s maiden flight was in the beginning of March 1944.

I had the old kit for years in my collection, but I could not find out the lettering on the upper side of its tail.

On 1st of December 2020 Bernd Heller showed the new kit from AMP on Modellversium: http://www.modellversium.de/kit/artikel.php?id=13219

Thanks to his support I was able to draw and print the decals for my experimental glider. The decal sheet of the kit includes only the crosses. So, thanks to Bernd, it was easy for me to draw the walkway. But I made it black, not red, as it´s in the AMP-kit.

Very helpful was also the book "Horten Ho 229 - Spirit of Thuringia" from Andrei Shepelev and Huib Ottens.

Many details had to be built from scratch. The transparent material of the canopy was already light brown, so I could not use it. I filled the canopy with resin, so I had the base of my own mold and I could make a new one. I also improved the shape of the canopy.

To make a more realistic cockpit I cut off the front area of the fuselage, so I could reach the inner side and mill out some material to get it deeper, before I added my self made details.

For the seat there are good looking seat belts out of photoetched parts.

The braking parachute I made out of a 4 mm thick polystyrene plate. The belts were made from aluminium foil.

The front/upper side of the fuselage had to be filled up with putty, otherwise it would not match to the wing roots.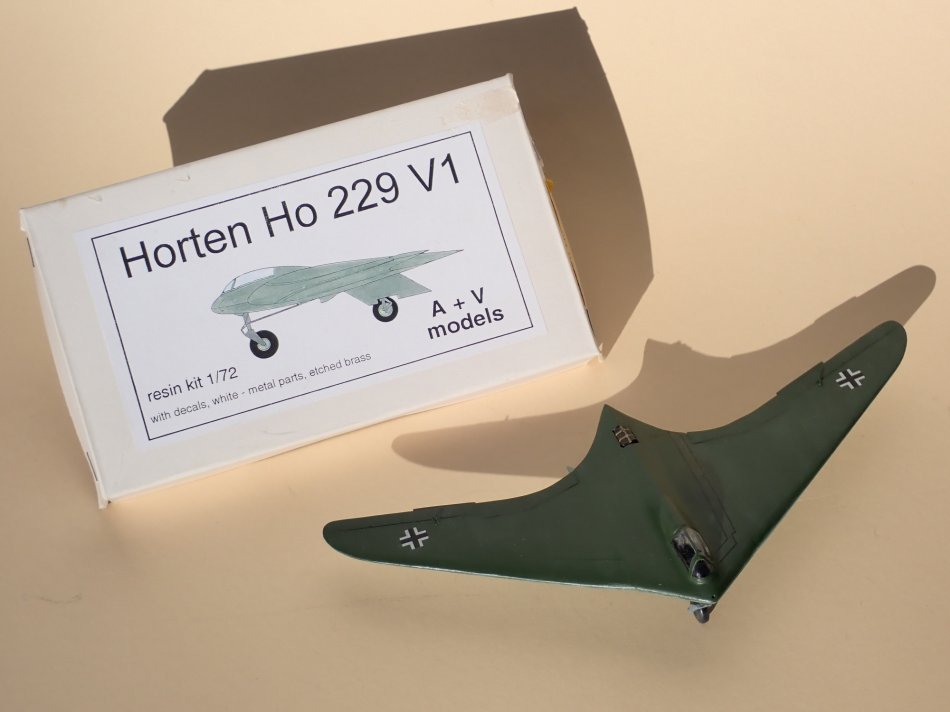 The lower side was painted in RLM 65 light blue, the upper side probably in RLM 71, as it is said in the book. Finding the right color for the upper side was very confusing, because on some pictures it looks extremely light. On some other pictures you see that there is a big contrast between the lower and the upper side. So I think the authors were right and it must have been dark green.

I painted the model with brush and colors from Revell. After I attached the decals I gave a light washing to it and sealed it first with flat, and after that with silk, clear varnish.

The V1 has the most pure shape of the Horten IX. It´s a timeless design and still today it looks futuristic.

Greetings from Germany
Thomas Brückelt