Another WW2 classic, the B-26 Marauder, also hardly needs an introduction. Bristling with guns and with two bomb bays, this two engined bomber was deployed in all theaters of this global conflict. Over 110,000 sorties were flown by the US Army Air Force and Navy, the Royal Air Force, the South African Air Force and the Free French.
Eduard's kit is based on the very well detailed Hasegawa kit. Eduard's goodies included: a very welcome set of masks; PE for the cockpit, bomb bay and engines; and resin wheels. Again a good number of liveries are given accompanied by some interesting information about the specific aircraft.
The build is straightforward. The fit of this Hasegawa kit is extraordinarily good and the additions of Eduard all fell into place perfectly. If I could suggest a small improvement, it would be to make the ammunition belts of resin but that is nitpicking. I had some trouble keeping the machine guns 'safe' after I had to install them in the nose. There simply is no other way but it's a nuisance.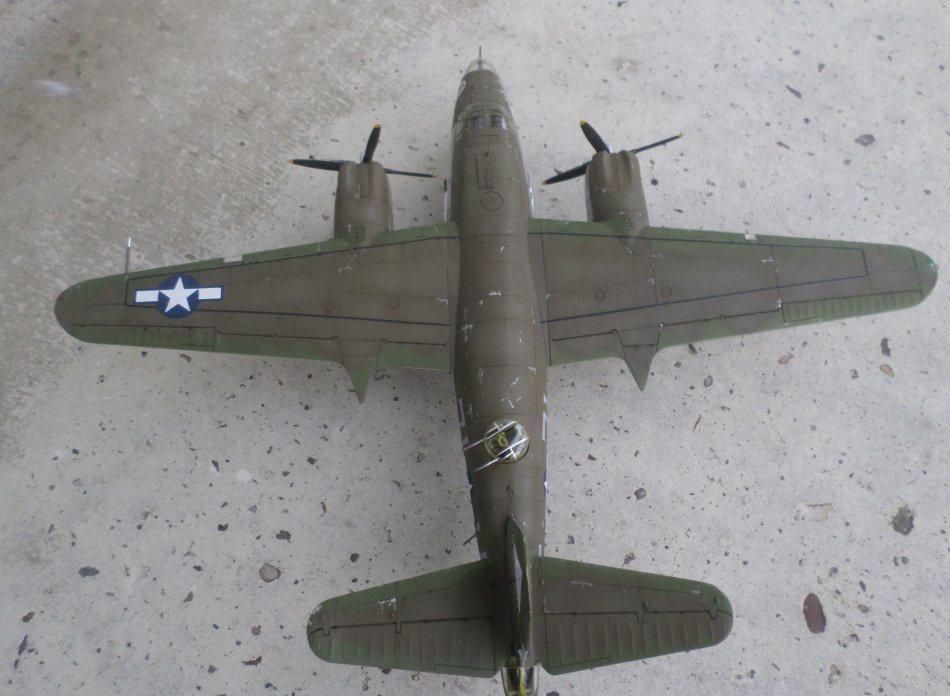 I choose one of the more difficult paint schemas with combined camouflage on the upper parts of the aircraft, bare metal on most of the rest and invasion stripes to complicate things. I added some wear to the camouflage colours with highlights and a wash, followed by the usual streaks. It's dirty. Decals went on pretty well although they did tend to fold easily around the edges. But nothing major that couldn't be corrected with decal softener. I finished the kit off with a lot of chipping and a mat coat on the camouflaged bits. I hope you like the end result.
Klaasjan Schuuring