The old resin kit from Dujin was reissued in October 2020 by the french JFR-team ( https://www.jfrteam-neufgrange.fr/ ). I was very happy about that, because a friend - Peter - owns a B4 and allowed me to fly it. So I bought two of the kits to make one for Peter and the other one for my own collection.

The B4 is available in two versions (different markings). The kit itself is relatively simple, all the small parts have to be built from scratch, two deepdrawn canopies are included. The decal sheets are printed in a very good quality. There are photo etched parts in the box (seat belts, instruments and a skid, used for other gliders).
I built the models airborne, so I added pilot figures. Therefore I adapted figures in H0-size. The sidewalls inside the cockpit I made from a polystyrene sheet. All the other details were made from stretched sprue.

The models were painted with colors from Humbrol and Revell (enamels, brush).

I printed the most decals on transparent foil.

The models were sealed with clear, shiny varnish from Mr. Hobby.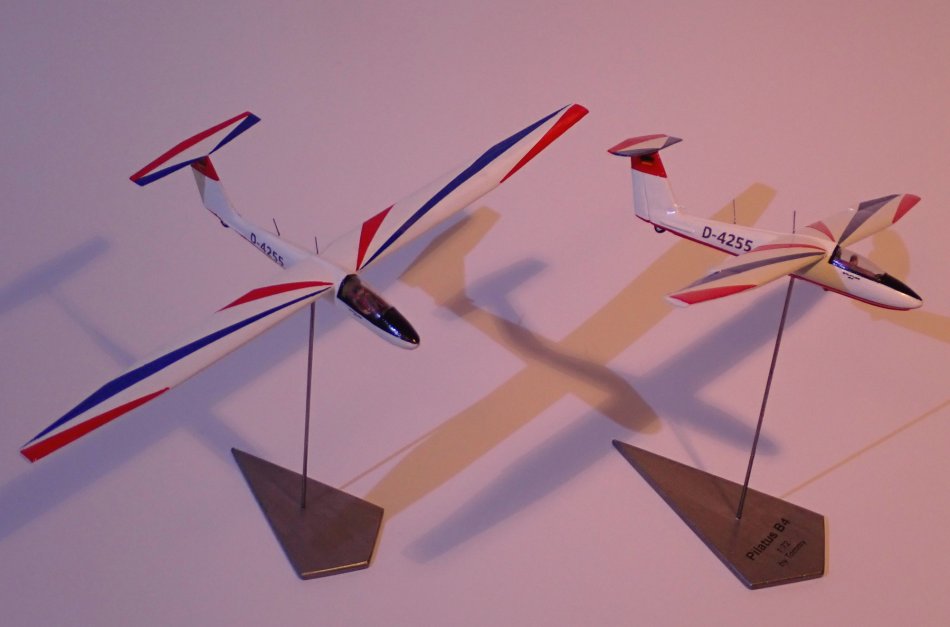 Here I made a video of Peter flying his B4 with pyrotechnics (training flight for an airshow): https://youtu.be/rBfeBHbVqMA

Here is one of my own aerobatic flights: https://youtu.be/I8IH5ErFVdU

It´s cool that the JFR-team makes that old kits again, Dujin had very interesting kits.

Greetings from Germany
Thomas Brückelt