The Vermont Air National Guard was founded in 1947 as the 134th Fighter Squadron. Based in Burlington, Vermont, they were tasked with the air defense of the Northeastern United States, and a secondary mission of ground attack.

In 2015 I decided to undertake the building of their entire aircraft history in 1/72, as they are based in my birth city. This was ambitious since no decals exist for most of their aircraft as of this writing, leaving me to test the limits of my resourcefulness.

In 1960 the Green Mountain Boys traded their F-89D's for F-89J's, operating them for the next 5 years until 1965. Although still subsonic hand-me-downs, the massive Scorpions now boasted missile armament, in the form of the AIR-2 Genie. This was the first missile-armed aircraft to be flown by the unit. During this period the Green Mountain Boys began operating from Burlington International Airport, as Ethan Allen AFB was closed down, and the 37th FIS departed, leaving them as the sole defenders of Vermont airspace.

I used the Revell F-89 kit for this build. Once completed, I decided I should have tried the Pavla resin cockpit in it; the huge canopy exposes the inside 'way too much when positioned open. I would later use the Pavla 'pit on the F-89D build. I whole-heartedly recommend this approach!

I should also point out that the instructions have the left and right gear reversed; do NOT follow the kit instructions or you will mistakenly have the tires facing inboard instead of correctly facing outboard.

The airframe was painted in Model Master enamels.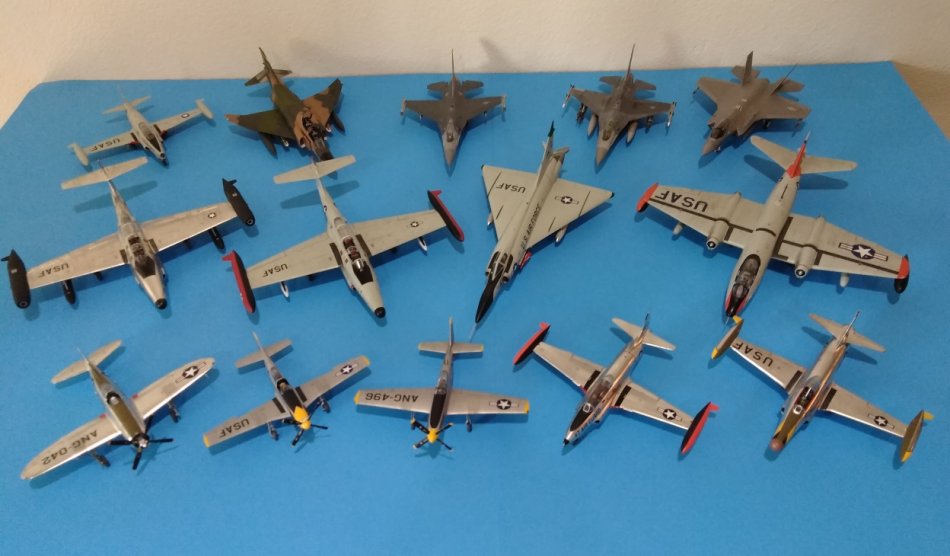 As with most of the Vermont aircraft, no decals exist in any scale for their F-89's that I am aware of. In their five years of Vermont operations, the markings transitioned from natural metal with red wings and tails, to overall ADC gray. Although I prefer the look of the former, I decided the safest route was the later ADC scheme considering the lack of decals. The markings were a combination of kit decals, Superscale ANG badges, generic lettering/numbering, and the "Vermont" legend from the Wolfpak F-102 markings.

Next time is Vermont ANG part 8: F-102 Delta Dagger.
Andrew Desautels