The Vermont Air National Guard was founded in 1947 as the 134th Fighter Squadron. Based in Burlington, Vermont, they were tasked with the air defense of the Northeastern United States.

In 2015 I decided to undertake the building of their entire aircraft history in 1/72, as they are based in my birth city. This was ambitious since no decals exist for most of their aircraft as of this writing, leaving me to test the limits of my resourcefulness.

In 1958 the Green Mountain Boys received their next jet fighters, the Northrop F-89D Scorpion, operating them briefly for the next 2 years. The massive Scorpions were apparently great aircraft to fly, and although more advanced than the previous F-94's, they were still subsonic. As their primary mission was to defend New England from waves of Soviet bombers, it was a difficult job to accomplish without sufficient speed. Still, if they ever did get near enough to their targets, they boasted fearsome pods of rockets in the wingtips.

Adding insult to injury, at this time the Green Mountain Boys were sharing the airfield with a frontline unit, the 37th Fighter Intercept Squadron, who were operating their first supersonic mounts, the F-102 Delta Dart. Rivalry between the two units was already strong, but now the 37th was enjoying supersonic dashes in brand-new aircraft, while the 134th was still making the best of their subsonic hand-me-downs.

According to one story, one of the 37th's F-102's had accidentally sent multiple sonic booms throughout Burlington, as their pilots were still getting used to the plane's supersonic capabilities. Resourceful as ever, the Green Mountain Boys began to spread the rumor that the culprit was actually one of their "new" F-89's, falsely improving the reputation of their own tactical capabilities!

I used the Revell F-89 kit for this build, along with the Pavla resin cockpit. The Pavla 'pit goes in with very little trouble at all, and is a major improvement for an open cockpit of this size. I whole-heartedly recommend this approach!

I should also point out that the instructions have the left and right gear reversed; do NOT follow the kit instructions or you will mistakenly have the tires facing inboard instead of correctly facing outboard.

The airframe was painted in several shades of Alclad aluminum, with Model Master enamel for other details.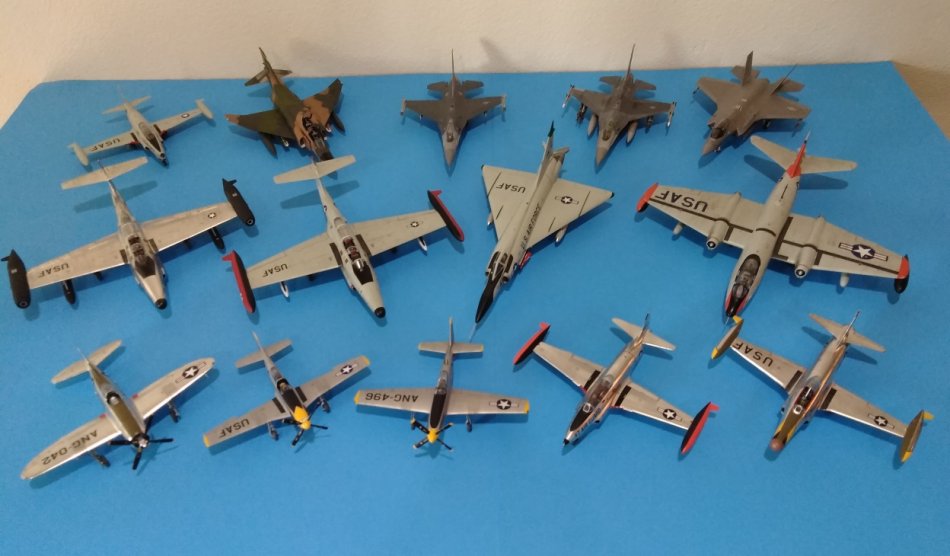 As with most of the Vermont aircraft, no decals exist in any scale for their F-89's that I am aware of. In only two short years, Vermont's F-89D's had several marking variations, none of them very complicated. My favorite involves a squadron "Scorpion" badge on the tail, but alas, no decals! Fortunately I found one photo depicting one with very minimal markings, which I was able to recreate using existing decals. It's simple, but I think it has an appeal all its own.

Next time is Vermont ANG part 7: F-89J Scorpion.
Andrew Desautels