The Vermont Air National Guard was founded in 1947 as the 134th Fighter Squadron. Based in Burlington, Vermont, they were tasked with a primary mission of air defense of the Northeastern United States, and a secondary mission of ground attack.

In 2015 I decided to undertake the building of their entire aircraft history in 1/72, as they are based in my birth city. This was ambitious since no decals exist for most of their aircraft as of this writing, leaving me to test the limits of my resourcefulness.

In 1954 the Green Mountain Boys received their first jet fighters, the Lockheed F-94B Starfire, operating them for the next 4 years. This was greatly welcomed by the crews, as their piston-engined P-47ís and P-51ís just werenít fast enough to intercept incoming Soviet bomber formations, the primary mission of the New England-based Air National Guard units. Truth be known, the F-94ís werenít quite fast enough for the job either, but they were a definite improvement.

I used the 1/72 Sword kit and did it mostly OOB. Complete with kit-included PE detail, the build was sometimes a bit frustrating but still doable.

As with most of the Vermont aircraft, no decals exist in any scale for their F-94ís that I am aware of. The yellow and black markings on the nose and wing tanks were masked and airbrushed before the airframe was done in Alclad lacquers. Such a job isnít so bad with models finished in camouflage, or overall gray, but it is definitely a frustrating challenge with a metal finish. It isnít perfect, but at least itís done. If anyone else is unimpressed with the result, then please produce decals for this subject, and by heck, Iíll buy them!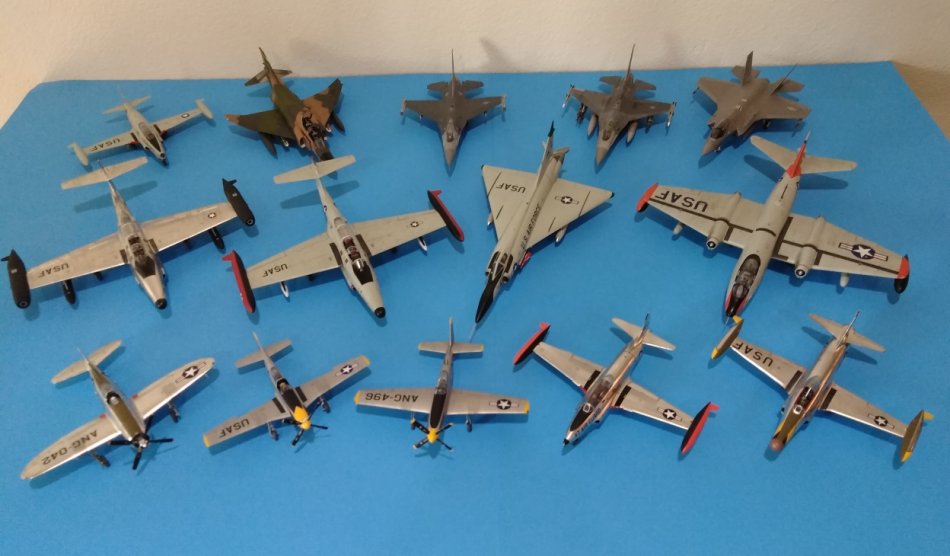 Many of Vermontís Starfires also had a badge crest on the nose, but I have no clear photos of the details. Luckily this was not applied to all of them, so I reproduced an airframe which lacked this detail.

Next time is Vermont ANG part 6: F-89D Scorpion.
Andrew Desautels