Hi all!
After about 3 months, this one is finally finished! The 1/48 Academy MH-53E Sea Dragon from HM-14 Vanguard, callsign "Vulcan 552", circa 2013. This aircraft was destroyed in an accident in June 2012, but with no casualties fortunately.

I have wanted to build this kit for quite some time, but wanted to wait until I felt my abilities were high enough to do it justice. Well that time is now! The Academy kit is really quite nice, great detail, and it really fits very nice everywhere. I used very little putty on this build. But there is one big achilles heel with this kit. There are no rivets. The actual aircraft has them EVERYWHERE. So I decided to try my hand at adding rivets for the first time. I did so using the RB Rivet-R tool, and it worked very nicely! It was, however, VERY time consuming and VERY tedious. It took me pretty much a full week to do it all, as I could only do so much in one sitting before I had to leave it be. The one nice thing is that apparently Academy must have intended to add panel lines where the rows of rivets should be, because there are VERY faint lines where the rows of rivets should be. They are hard to see, but if you use some lighting and look at certain angles they can be seen and used as a guide for the rivet tool and tape.

I used some aftermarket for this kit. Some Eduard exterior photoetch, Wolfpack MH-53E update set, and Res-kit refueling boom. The decals were mostly OOB and Vulcan 552 specific decals came from the Wolfpack set. All decals from both manufacturers performed flawlessly. I was very impressed. The only issue I had was the kit supplied walkway decals are a rather light gray, and from the pics I saw they should be either black or faded to almost the color of the rest of the exterior. So I used some white glue mixed with baby powder and Tamiya Rubber Black paint to recreate the color and texture of these walkways.

I decided to pose the model with folder rotors and non-folded tail because I have seen pics like this and like the look. BUT, I found out the hard way near the end of the build that the model is a tail-sitter in this configuration once I added the folded rotors. I had to put some fishing weights on blue tac (all painted black for reduced visibility) in the cargo area to offset this and to get it to sit flat. If I had it to do over, I would have put one or two fishing weights at the front of each sponson to keep the nose down.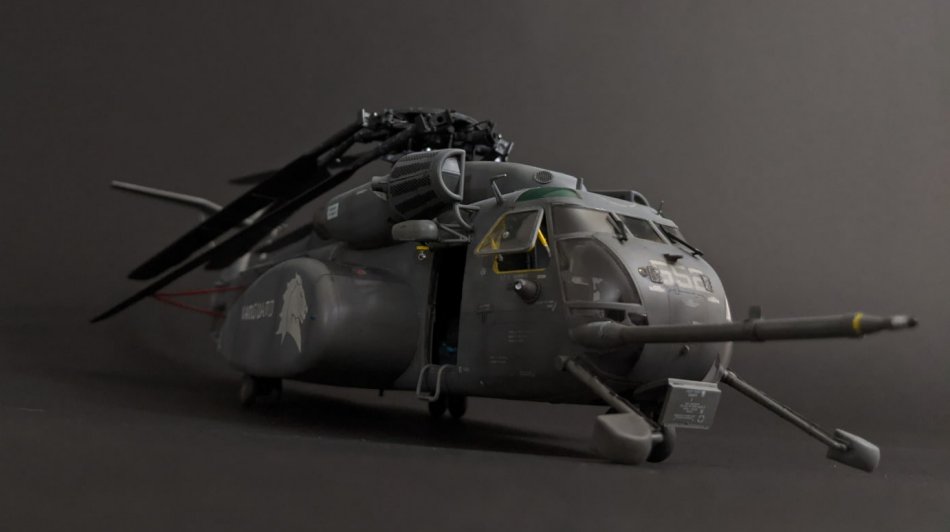 I still have trouble with Helos compared to jets, to me there are just more difficult. But I feel like I made some big strides in my helo building capability with this project, so that makes me happy, and excited to build another one some day, but not before I get back to my comfort zone and build a few jets.

Here is what I used for this build:

Kit: 1/48 Academy MH-53E Sea Dragon - 12703
Decals: OOB and Wolfpack Update Set - WP48189
Aftermarket: Metallic Details Refueling Boom, Eduard Exterior PE, and Wolfpack Update Set
Paints: Gunze Mr. Surfacer Gray1500 (main aircraft primer base), Mr Paint MRP-241 FS36081 Dark Gunship Gray, Gunze Aqueous H308 Light Ghost Gray and H305 Gunship Gray, Tamiya Rubber Black, Clear Red, and Clear Blue, Gunze Mr Color GX2 Gloss Black (gloss black primer for metalwork) and Alclad II Airframe Aluminum, Pale Burnt Metal and Burnt Iron. Future Gloss coat for decals and Future+Tamiya X-21 Flat Base 6:1 ratio for final matte coat. Mig Ammo Deep Gray panel wash.
Michael Phillips
Click on images below to see larger images