The Dassault Mirage F1 was developed as a successor to the popular Mirage III family. The South African Air Force recognized the advantages of a simplified version of the Mirage F1CZ for day visual attack missions. The resulting Mirage F1AZ is visually distinguished from the F1CZ by having a slender conical nose, resulting from removal of the large Cyrano IVM radar. In its place is the ESD Aïda II ranging radar and a laser-range finder, with a large instrument boom housing the pitot/static heads attached on the underside of the nose. The main avionics racking is moved from behind the cockpit to the nose, making room for an extra fuselage fuel tank. Other additions are a Doppler radar and a retractable refuelling probe.

South Africa received 32 aircraft for service with No. 1 Sqn. This model is the Airfix Mirage F1C kit (#04022) modified to the F1AZ by using a Scaleworx conversion kit and a combination of kit and MAV decals. It carries a typical Operation Moduler weapons load of 6 x Mk.82 bombs, underwing fuel tanks and Matra 550 heat seeking missiles for self defence.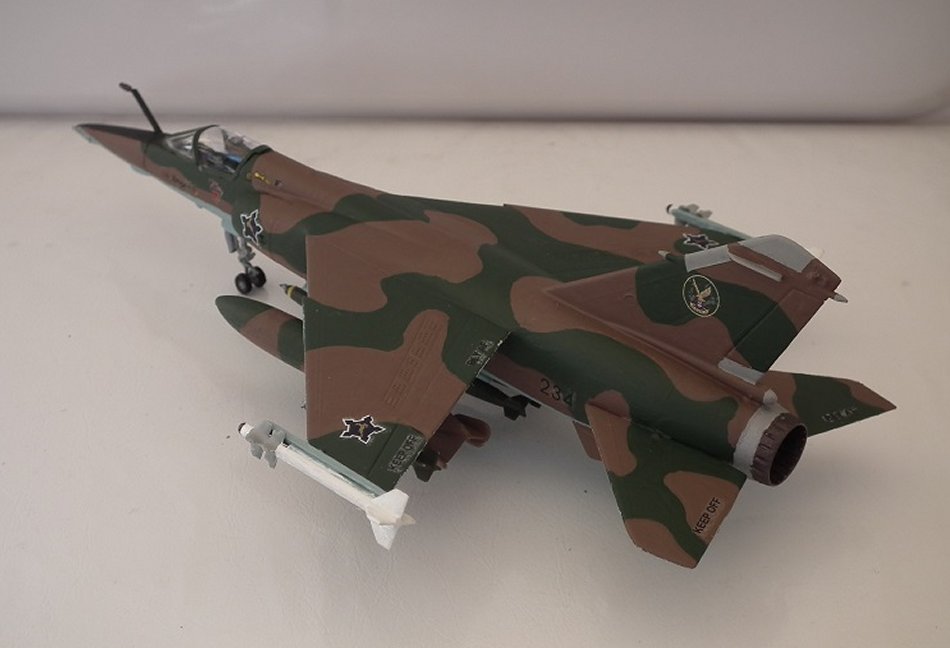 This particular aircraft (#234) was finished in the interim camouflage scheme whilst deployed at Grootfontein, Namibia in 1988. Following a dogfight with MiG-23's, in which the MiG pilots had spotted the SAAF aircraft first (the MiG-23's had actually been stalking the Mirages), the mid buff colour was changed to dark earth. It was felt that the mid buff was too bright and aided the MiG pilots in spotting the SAAF Mirages. This colour change was done overnight, ordered by Commandant Johan Rankin, whilst still deployed in the operational area.
I hope you enjoy the article.
Dirk Schenk