Dassault Mystère IVA No.8 Sqn Indian Air Force c.1964
I am happy to share my finished 1/72 Azur Mystère in the colors of the Indian Air Force here today. This model unlike any other was a result of an epic single-type group build amongst several modelers on the Indian Scale Modelers Facebook group. Most of us worked with the Azur kit while few of the older Matchbox examples were also completed. The journey of researching the type's illustrious service in the Indian Air Force while building and fixing the kit's issues allowed us to bond as modelers in unprecedented fashion - constantly pushing the envelope on our skills and overall accuracy of our respective builds. Here's mine finished in the flashy colors of the No.8 Sqn (Pursoots) from c.1964.

Azur undoubtedly makes the finest Mystère IVA kit in the 1/72 scale, but like kits of this nature, it makes you work hard to get the right finish on the model. Additionally, there's several quirks of the Indian variant which we uncovered as a group and had to build in along the way. I will list the changes here that I can remember - The horizontal stabs need to be made the all-flying type and that forces changes to the panels and access points on the tail, NACA vents on the sides and underneath that don't exist on the kit, shortened the main wheel legs to give the aircraft the right nose up attitude, replacing the kit's beautiful resin seat with the older SNCASO seat IAF used (scratch built), moving the position light on the tail since my example didn't have the brake chute fairing.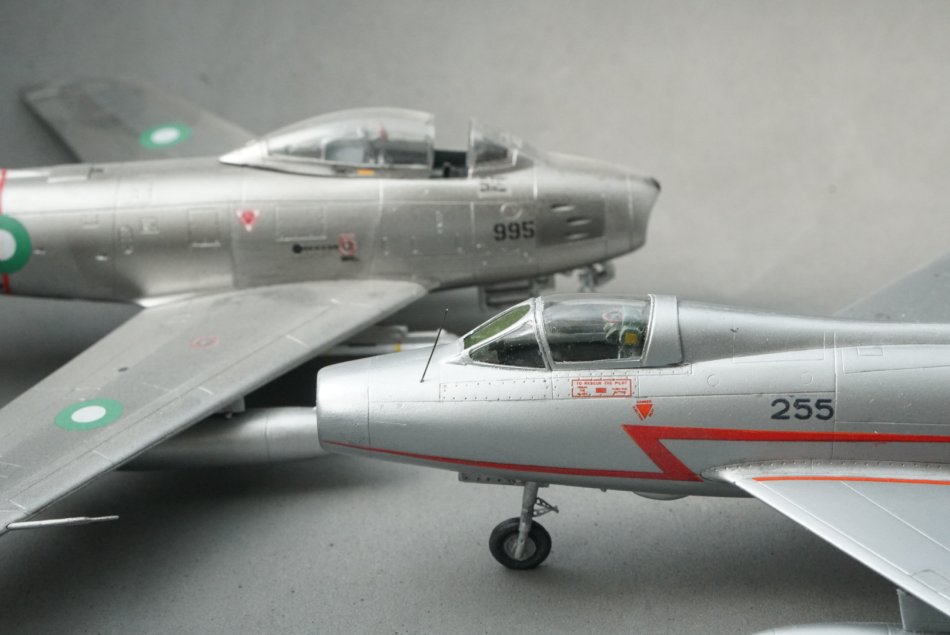 The model was finished as IA 939 in markings slightly different from what was supplied in the kit. Essentially, I had to do away with the big squadron logo on the nose and replace it with what seems like the manufacturer's construction number mid-fuselage. The 'bolt' decal in the kit was more orange than red and had to be tweaked with home-made overlays. The model was painted in various shades of Alclad, but I decided to keep the shade differences to a minimum as I observed in photographs of the real things. Wing tanks weren't in the kit and had to be sourced from an Academy Etendard kit. These early jets went nowhere without their drop tanks!

I missed adding the wing pitot tube when these pictures were taken, but it was added subsequently. Hope you all enjoy the otherwise complete model as much as I enjoyed the journey to completion with this memorable build.

Thanks for looking.
Ratish