Hasegawa 1/48 USAF North American F-86F-30 Sabre - "Barb" of Captain Ralph Parr – 10 victories in Korea, 4th Fighter Interceptor Wing, July 1953.

It was an easy build with very few parts and a good starter kit for anyone wanting to try aircraft. I included a really nice Quickboost ejection seat, which is just a "paint it and drop in" item. It's a simple add that really improves the look of the cockpit. There is also some Eduard photo etch in the cockpit for extra detail and Eduard resin tires and wheels. I have lost enthusiasm for the resin cockpit sets as most of them require a huge amount of scraping and sanding to get them to fit correctly in the fuselage, especially in jets with lower level intakes. Warning – I had to add a lot of weight in the inlet after the model was completed to keep the nose gear down, so if you can, add some during construction. The cockpit and seat are painted various shades of black, which is correct for Korean War-era Sabres - later models and refurbished aircraft interiors were painted gray, but originally everything was black. This was backed up by several color photos from Osprey books as well as the F-86s in the Air Force Museum.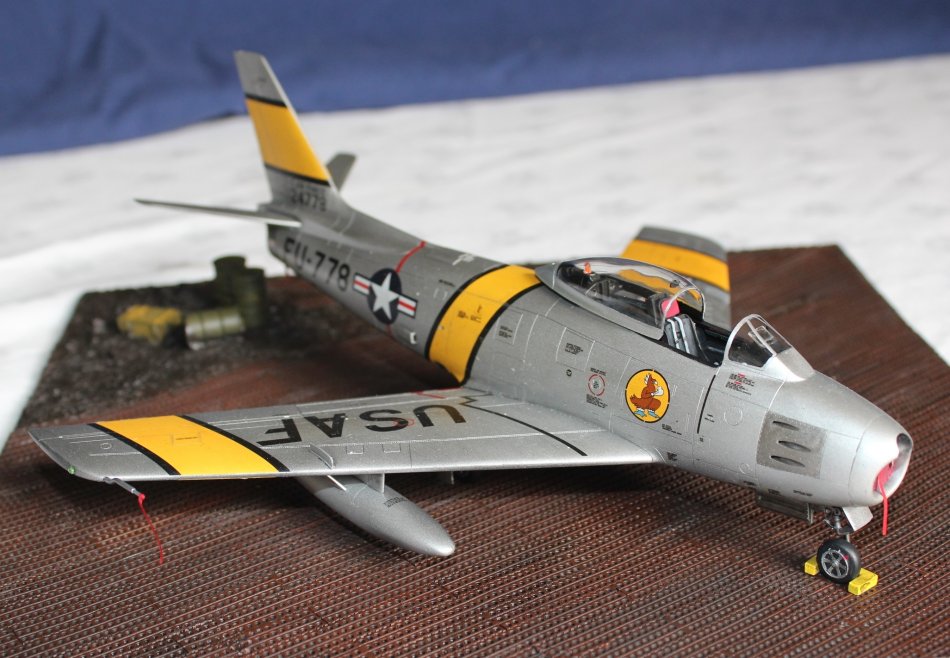 The decals are mostly from Aeromaster Korean War Sabres and the decal sheet was more expensive than the kit, but disappointingly, there does not seem to be a decal set for any of Capt Parr's aircraft in 1/48, despite the fact he was one of very few double-aces in Korea, so I did the nose art decals myself on a computer. The stenciling is from the kit. Metal finish is Vallejo Metal Colors over a (flat) black primer and I am sold on those – easy to apply and clean up, and a durable finish. Topcoat is Vallejo Metal sealer, then a wash of black oil paint. Canopy is coated in Future acrylic floor covering. The base is a nice Squadron "Moments in Time" WWII/Korea Marston Matt resin display piece.
Brian Duddy