The F-18 can be traced back to Northrop's F-5 if you go back far enough and through the YF-17 as a competitor of the YF-16 narrowly missed the air force's requirements but what had been shown was promising. The end result, so far, is the FA-18E, an aircraft that has lived up to its promise. By now, the slender competitor to the YF-16 has matured into an aircraft that's near in size to the F-15 and almost as versatile. And with all that being said, it also looks stunning. It looks exactly what a jet fighter should look like.

Eduard uses the adequate Hasegawa parts that would build into a nice model by itself but added it's regular goodies like a PE set for the cockpit, a resin seat and resin wheels. What's even more important is the abundance of decal options for the kit with prints for no less than five different liveries. Each one more colorful than the next. They all represent the CAG's (Carrier Air Group commander's) ships which traditionally have been adorned with bright colors. Minor problems with the Hasegawa parts made parts of the build slightly challenging but nothing that couldn't be overcome.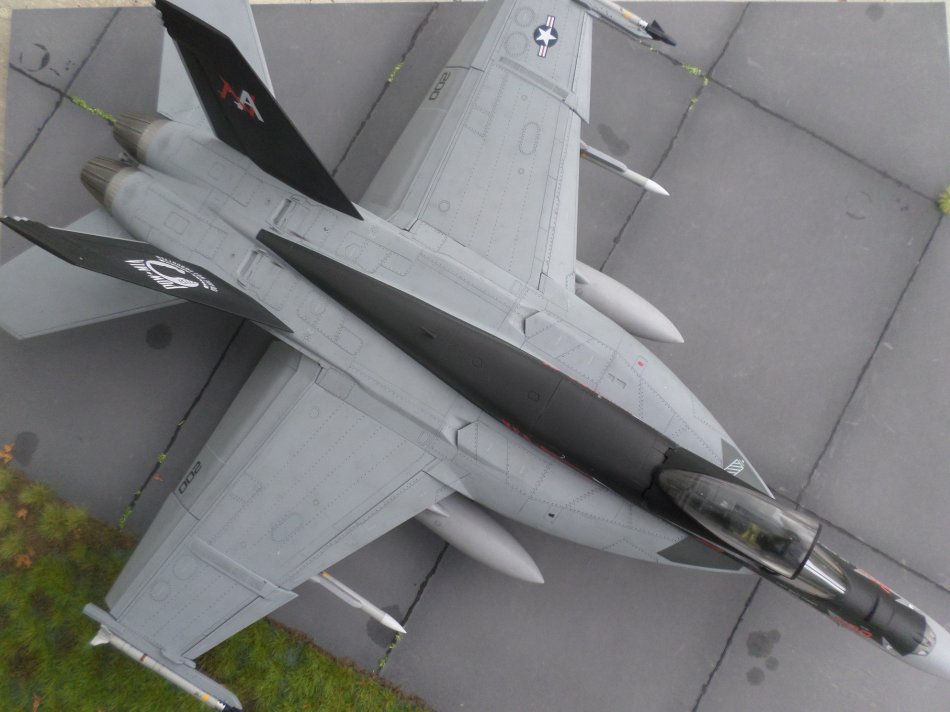 I airbrushed the kit with MrHobby's aquaeous colours which haven't let me down at any time so far. I used mixed oil paints to liven up the smooth grey of the upper hull and wings. Stippling it on and blending is shortly afterwards to give the paint a slightly worn look. It's hard to see in the pictures I fear.
The decals went on a treat and look the part. The shark mouth was a bit of a challenge since it's positioned straight across the AOA sensors on either side of the nose. But ample amounts of decal softener and patiently pressing it snugly over the lumps and bumps finally did the trick. I hope you will enjoy the pictures.
Klaasjan Schuuring
Click on images below to see larger images