The FM-2 was a variant of the Grumman Wildcat built by General Motors, Eastern Aircraft Division. GM built 2,890 of them, 40% of the total Wildcat production in the Linden, New Jersey plant. The FM-2 was lightened by reducing the guns to 4 from the F4F-4s 6- .50 Browning M-2s. Powered with a 1,350 HP Wright R-1820-56W with an uncuffed Curtiss Electric prop, the FM-2s performance was greatly enhanced over the F4F-4. The main differences from the F4F-4 was a taller tail to handle the increased torque of the R-1820, and a straight radio mast, replacing the forward raked mast of the F4F-4. Late versions carried 6- underwing Mk 5, 5-inch rockets. FM-2s served in the Pacific and Atlantic theatres, from small escort carriers.

The model represents an FM-2 painted in the North Atlantic, ASW II camouflage scheme. FM-2s and TBF Avengers hunted in pairs and sunk 35 Nazi U-Boats.

This model is the 1:48 Hobbyboss FM-2 that was built out-of-the-box except for the streamlined prop boss that was found on later models. I turned styrene rod using a Dremel Tool as a lathe shaping with various grit sanding sticks. I also replaced the undersize kit seat with one from the scrap box.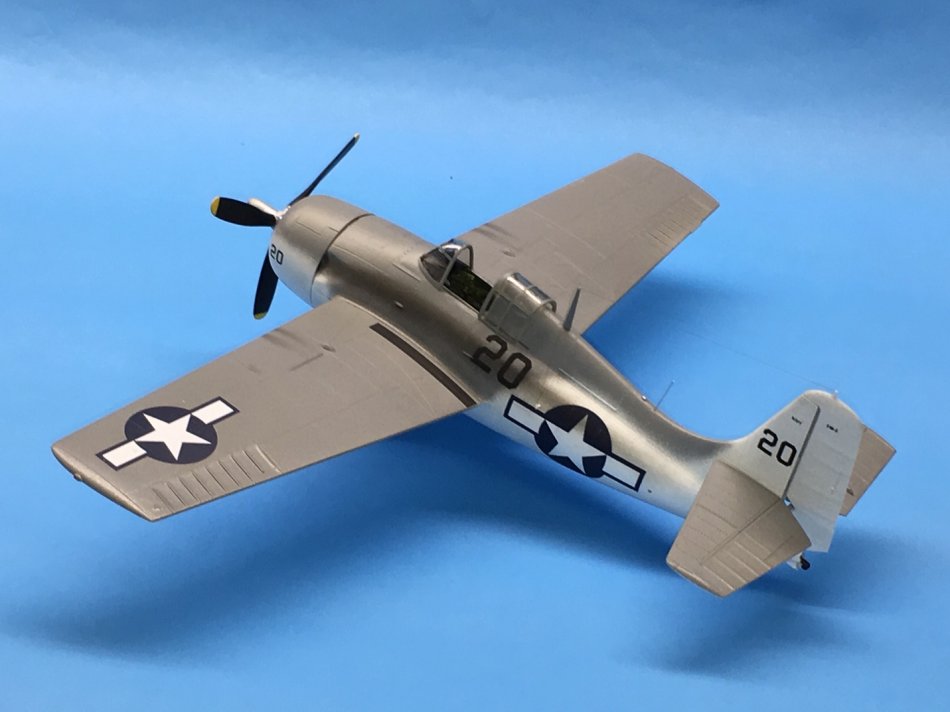 The upper surface is Tamiya acrylic Sky gray darkened with several drops of black. Tamiya Flat White was used on the underside. A Paasche H-1 airbrush set at 20 PSI was used to get the soft demarcation line. It was then sprayed with Tamiya Gloss for application of the kit decals that were perfect! When dry, a final coat of Tamiya Flat gave it the eggshell finish I wanted. The exhaust staining and the gun port streaks were done with black and orange pastels using a small soft bristle brush. A nylon thread antenna wire and guitar string whip antenna finished it off.
H. Davis Gandees