This is my Spanish two-seater Hornet: basically the very good Kinetic kit out-of-the box, I just added two Pavla resin ejection seats in the cockpit. Similarly as other modelers reported, I deviated from the instructions when constructing the engine intake trunking and mating this with the intakes: rather than first fixating the trunking into the fuselage and then closing the fuselage followed by intakes, I first installed the intakes and then added the trunking (allowing this to be better aligned), before closing the fuselage halves. Also on the nose area a different building sequence was needed to get a proper fit. Other than that the build was pretty straightforward.

I mixed different thinned tones of grey, tan and blue (all Humbrol/Revell enamels) with - and on top of - the overall grey basis, resulting in a worn and used look, as is so typical for these SpAF aircraft. Decals are from the kit and really excellent: printed by Cartograph, these are thin and strong, no difficulties there. Post-decal weathering was done with an enamel panel line wash (MIG) and subsequent oil filters on certain areas. AN/AAQ-28 litening pod, modified inert AIM-9 and 2 droptanks for this typical loadout are from the kit.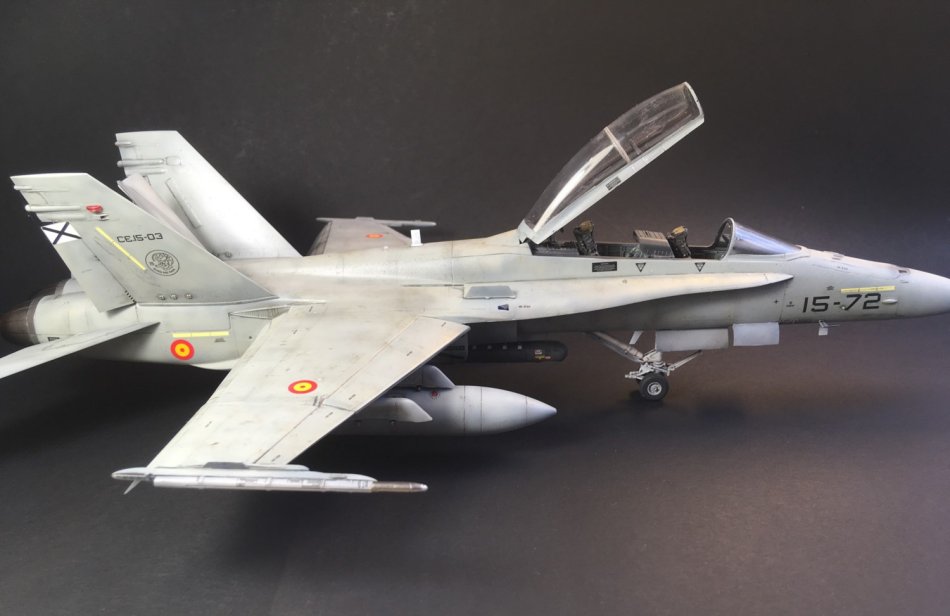 The SpAF participated with 7 EF-18's during the 2018 edition of the "Frisian Flag" exercise, alongside NATO partners Germany, France, Poland, The Netherlands and the USA. Hosted at Dutch AF Leeuwarden AB, in the Frisian province of The Netherlands, this exercise is set up in a similar way as the well-known "Red Flag" exercises at Nellis AB - albeit that here maneuvering takes place over the North Sea. EF-18B no. 15-72 was one of the SPAF aircraft attending the 2018 exercise, I used several pics from this particular aircraft in its training configuration as a reference for the build.
Regards!
Patrick Vossenberg