This was another one of those fun builds which has no bearing on one's chosen themes. A good friend of mine gave me this model with a set of South African Air Force decals with the intent to build the SAAF version. It does however require an aftermarket kit to convert to the SAAF version so I decided to build this one OOB and add a splash of colour amongst the Camo on the shelf.
The MBB/Kawasaki BK 117 is a twin-engined medium utility–transport helicopter. It was jointly developed and manufactured by Messerschmitt-Bölkow-Blohm (MBB) of Germany and Kawasaki of Japan.
It has a number of attributes that lend itself to performing many different roles, such as twin-engine redundancy, sizable clamshell-shaped rear-facing double doors, and a relatively spacious cabin.
It has both civilian and military clients (including the SAAF) and proved a relative success.
The model is from Revell (#04833). The biggest challenge with this model was the decals. I lost count of how many there were but I am sure there were more decals than pieces. It was still a fun built with a nice colourful result.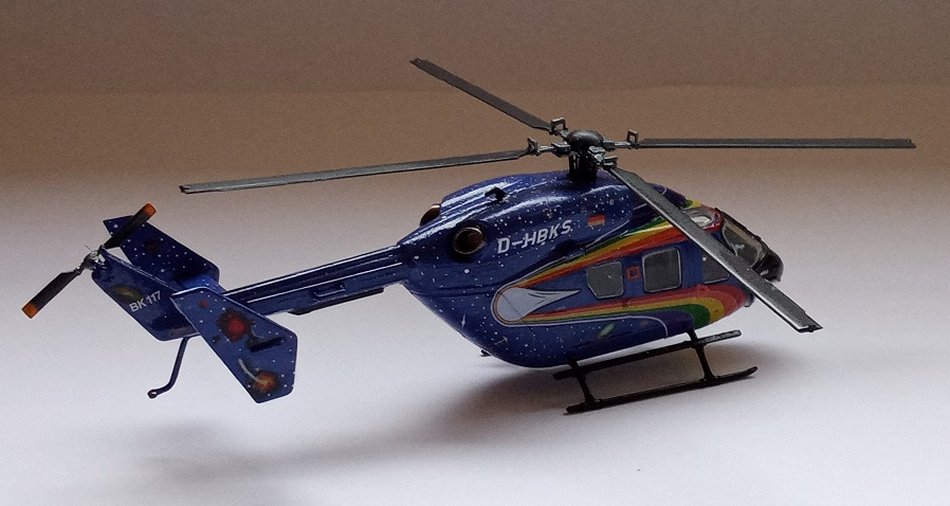 I hope you enjoy the article.
Dirk Schenk