The EP-3E is the U. S. Navy's primary strategic reconnaissance aircraft. Similar to the USAF's RC-135 family, its mission is to collect worldwide Signals Intelligence (SIGINT). While the aircraft it was derived from, the P-3 maritime patrol aircraft, has been retired from US service, eleven EP-3Es continue to operate with the Navy.

This is Hasegawa's EP-3E originally released in 2001. I was fortunate to come across one of these kits many years ago and added it to the stash, until Covid-19 came and gave me a lot more spend in the modeling studio. The basic molds are the same P-3C that Hasegawa originally released in the 1970's, raised panel lines and all, with some added resin parts.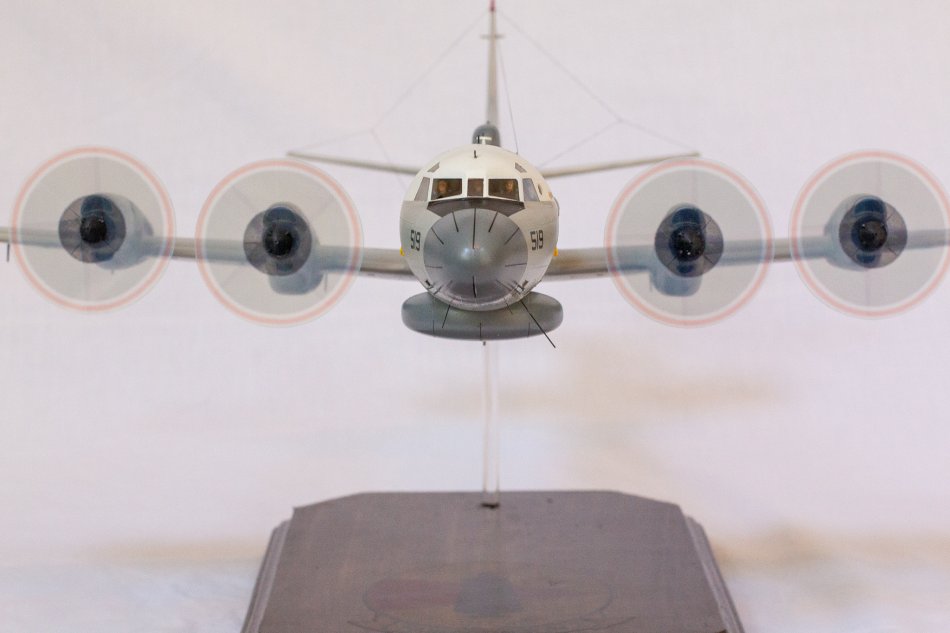 I added the Eduard P-3C cockpit and details sets (sadly you can't see much of the cockpit) and some aircrew so I could pose it in flight. The props were handmade using PowerPoint, transparent slide material, and an inkjet printer. The HF aerials were done using Berkshire Junction's EZ Line. The SIGINT antennas on the lower wings and rear fuselage were all scratchbuilt. I used Wolfpak Design's decal sheet #72-006 to recreate a particular aircraft from Fleet Airborne Reconnaissance Squadron Two (VQ-2), the "Sandemen," that flew with my EA-6B squadron during Operation Northern Watch in Turkey, 2001. The VQ-2 squadron emblem was applied to the wooden base using inkjet waterslide decal paper and sealed with Future. This was a challenging, but rewarding build. Hope you enjoy!
Erik Boynton