Go on - take a guess: what is this little diorama about?

A Spitfire painted in blue-grey and tan, a Bren Carrier working as an airfield tractor painted in crazy paving camouflage, and all in a hot climate.

Well, it's supposed to be Malta.

Hobbyboss Easy Assembly kits are extremely variable in quality and accuracy: some are great, some are stinkers.

Alas, the Spit V is one of the latter. It has three principal errors.
First, neither the closed nor open canopies fit as they should. Second, the prop blades are so emaciated they look like an anorexic joke. And third, ha, you won't believe this . . . the kit fails to include any main undercarriage doors. I don't mean they were just missing from my kit, I really do mean they were never there in the first place - as confirmed by parts diagram and instruction sheet . . . How did this one ever get out of the factory?

I solved problems two and three from the spares box but had no replacement canopy so left it as it was.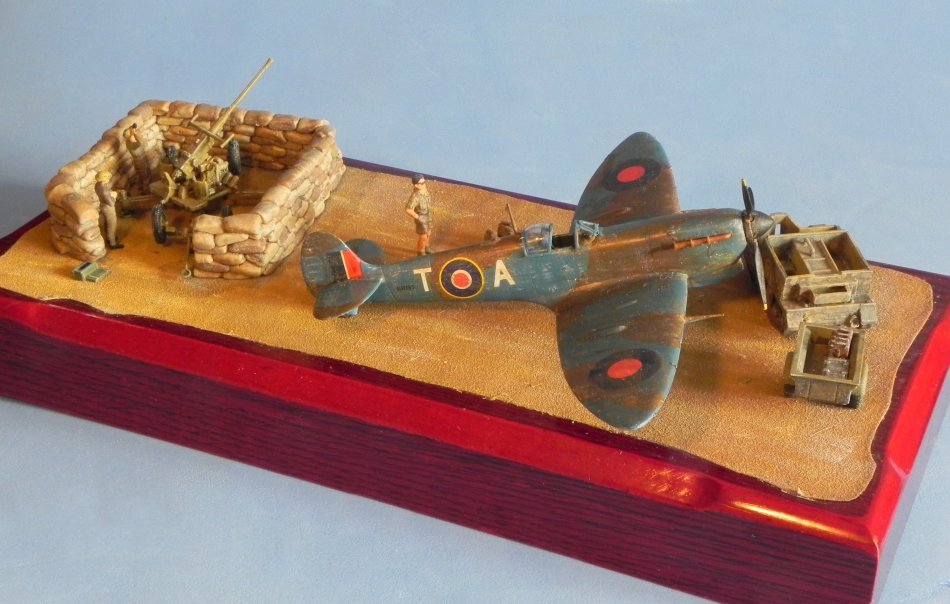 The Bren Carrier idea came from a photo in a French aero magazine showing precisely this situation. I like it so much I plan to do the same in 1/35 scale any day soon. The Bofors AA Gun is one of Airfix's nicest. Sandbags were individually made from some weird Chinese window putty. The figure looking disbelievingly at the terrible cockpit canopy is an old Airwaves white metal Luftwaffe character but, hey, anyone wearing shades and shorts could be any nationality, right?

Everything was brush-painted with Tamiya acrylics.

The base is someone's discarded rubbish; groundwork is fine sandpaper.
Greg Kerry