F-4J Phantom II VFA-115 "Silver Eagles"
Iím still in a USA bicentennial/flag displaying model mode. I just completed this one, of an F-4J with a Marine outfit, the "Silver Eagles." This kit has been around for a while, but I seldom see it in model shows, and I saw only one with this livery on the ARC Gallery, which was submitted many years ago.
Itís no mystery that 1/48 Hasegawa kits were made (and still are) with exceptional detail, and with recessed panel lines. It was a relatively direct build, with the exception of the cockpit seats: I used True Detail resin seats to get the most realism from this feature.
The decals are what make this kit unique, but they needed careful handling and in some areas required pre-painting of a required color before application, so that the decal edges could blend in location with the painted portion and not reveal unpainted gaps. Another difficult spot for decals is the upper fuselage walkway, atop the engine intakes and going backward to about half the fuselage length: these decals proved hard to bend around the curved intakes without breaking, so I masked the area and airbrushed the correct color.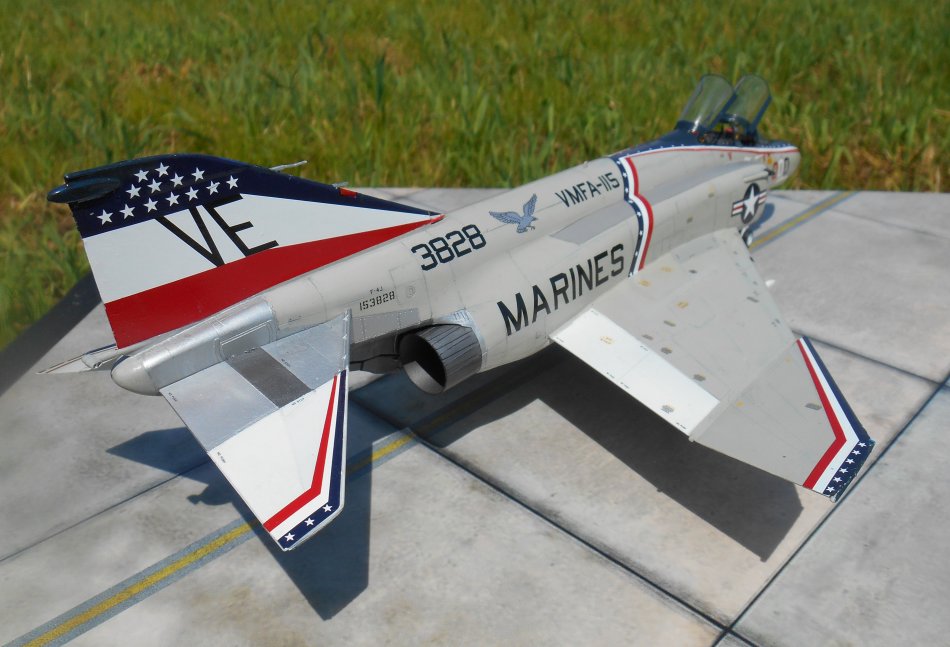 I used a light weathering on the top surfaces, but heavier weathering on the undersides, as this was a "show bird," flown to impress the public at airports around the US at the time of the bicentennial (Summer 1976). Yet the usual bottom areas picked up dirt and debris, oil stains, etc., and were impossible to keep immaculately clean.
Carl Jarosz