EMB-312 Tucano T-27 Brazilian Airforce Academy and "Esquadrilha da Fumaça" National Display team
Both models are finished with Tamiya Acrylics and amazing FCM decal sheet. I also used on both models replacement parts for the nose and engine exhaust, from Fabio Duarte, owner of Duarte´s Models. At last, you should take the Fuel Models wheels, HB wheels is a joke and definitely does not look like the real thing. Fuel Models wheels have an amazing quality resin and the cast is flawless.
The cockpit detail was improved using as reference pictures provided by my friend João Paulo Morales, one of a few civilians that holds up a few hours flying the T-27 with Brazilian Air Force pilots. You definitely should watch on YOUTUBE, the documentary, that he works as director TUCANO 35.

Searching about the plane and the kit, looks like HB used a plan, available at AIRWAR.RU web site, and messed up with nose section, spinner and air intake shapes, but in the end, for me, it looks like a T-27. This is not a bad kit at all, despite the nose shape issues and lack of cockpit details, the parts fit and recessed panel lines is very good.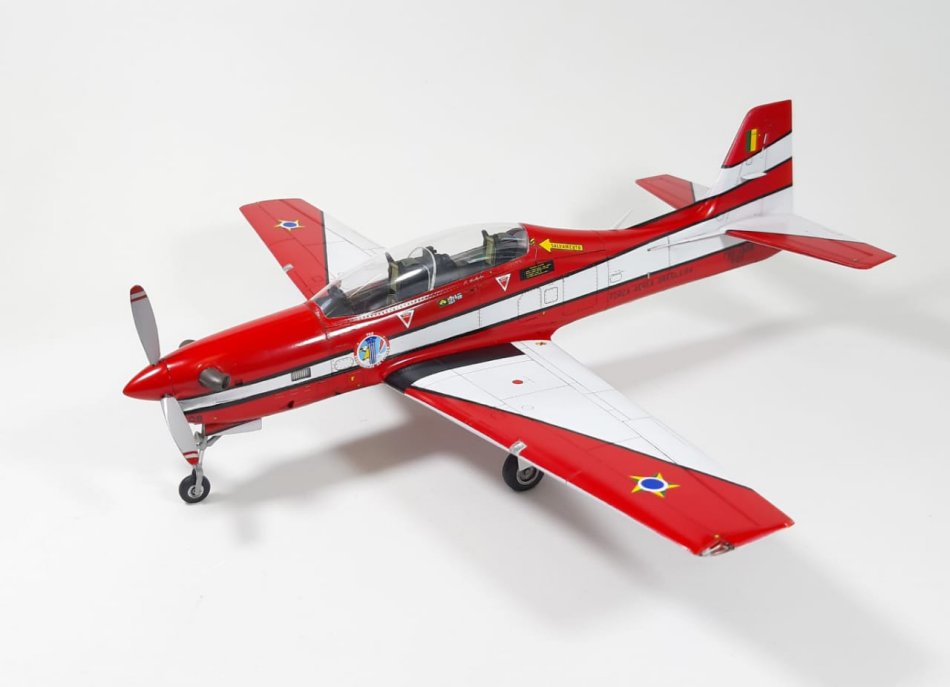 The paint scheme on these models are used by Brazilian Air Force Academy, located in Pirassununga- São Paulo state, and the second one was flown by "Esquadrilha da Fumaça" our national demonstration display team until 2003, when they turned to the Blue version. Hope you like it.
Daniel Iscold