In the lead to Anzac Day I built a Hurricane flown by Australian Flight Sergeant Gordon Tweedale during the darkest days of the defence of Malta. In May 1942 Hurricane HA-F/ BV163 was being flown by 185th Squadron pilots, but had kept its 126th Squadron markings. In fact, it had also kept is "temperate" camouflage scheme, appropriate for the Battle of Britain, but out of place in the Mediterranean. I think repainting was a low priority.

HA-F had been damaged in a crash landing in the last week of April, but patched up in time to be flown by Tweedale on the 8th May 1942, when he claimed his 4th and 5th victories. Sadly, after many months of battle flying Hurricanes, on the following day Tweedale finally got assigned a much-awaited Spitfire (which had arrived in Malta on that same morning, as part of Operation Bowery). Shot down in his first Spitfire flight, he died on the 9th May 1942.

The Hasegawa kit was for a Mk Iic's Hurricane, but I wanted a Mk IIa. Fortunately, there were spare parts for the front of the wing without the 20 mm Hispano cannons, which made the conversion easier. I basically had to use these spare parts, not include the "blisters" on top of the wings corresponding to the 4 cannons, and cover the 4 corresponding exhaust holes under and above the wings. Instead, I had to drill 8 ports in front of the wings for the Browning .30 machine guns, and 8 exhaust ports under the wings.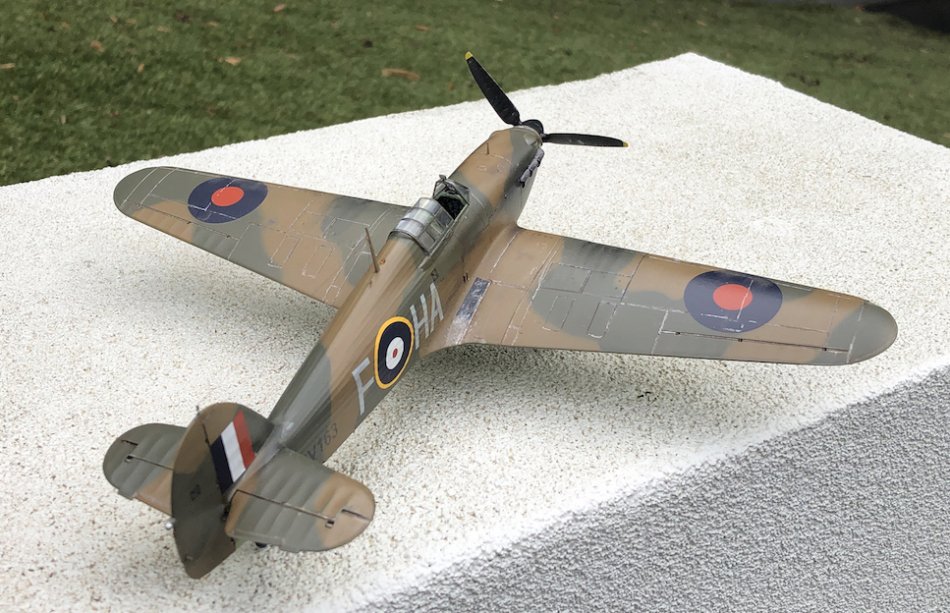 Malta in the first months of 1942 was not a place for the faint hearted, and accordingly I felt that relatively heavy weathering was justified. Once the plane was completed I decided to make it part of my first attempt to create a basic diorama. For this, I got the Aerobonus "Middle East Allied Pilot WWII with dog" resin set, which was very nice, requiring minimal sanding.

For more details and tips, you can visit the Hurricane page on my web site: https://www.marcellorosa.com/hurricanemk2a
Marcello Rosa