F-86E Sabre Arizona ANG
I recently attended an IPMS model show and stumbled upon a MicroScale decal sheet for this aircraft. Since Iím a sucker for ornate, unusual decals, I purchased it, then had to buy a new Italeri Sabre release, i.e. this F-86E. This type of aircraft was a mainstay of many state Air National Guard units in the early 1950s.

The kit was fairly straight forward and not too intricate. It had a pleasant amount of detail in the cockpit area, especially the seat, but I used the kitís decals for instrument and console panels rather than hunt the internet for an elaborate resin cockpit set. The fuselage, wing and gear parts were also very well done for the price, with lightly molded panel lines and accurate wheel bays and landing gear.

The kit also came with a couple of niceties: both intake and exhaust duct covers. I felt it would be a shame not to use them.

The kit was not without some drawbacks: for one thing, the sway braces for the wing tanks were extremely difficult to know where to install, as neither wing nor tank had locational marks. Solution? Reference photos, plus some trimming (filing an angle) on the brace parts. Another oddity was an unusual molding for an underside fuselage piece that almost ran the length of the rear half. Considerable putty and sanding was needed to erase the edge lines.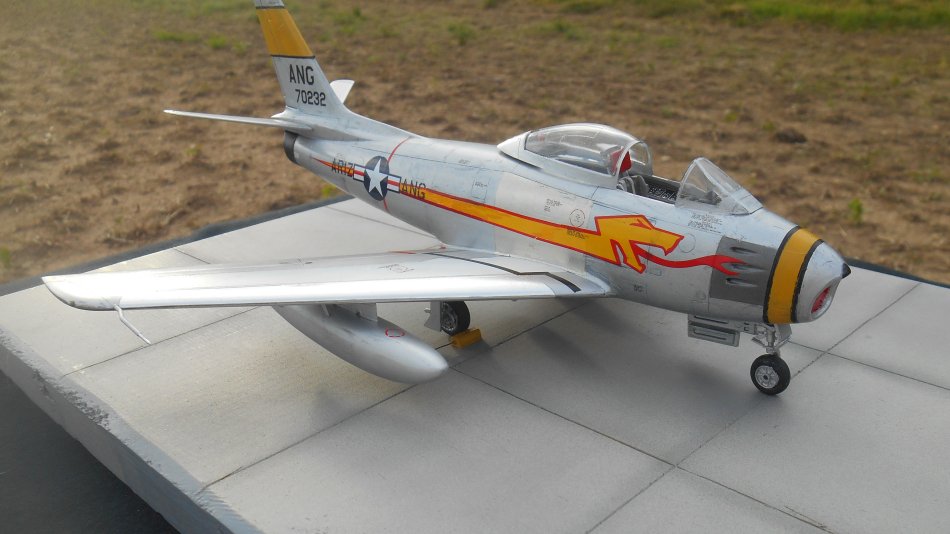 My fun with this kit came with painting and detailing of the built kit to reflect the way a F-86E looked with the Arizona ANG in ca. 1952. As Iíve been buying aircraft books and magazines for over 50 years, Iíve amassed a collection of references for almost any type of aircraft flown. I had a particularly useful reference booklet for the F-86 that had photos of this ANG unit, entitled ďF-86 In Color,Ē by Larry Davis (Squadron Publishing, 1980). Iím sure this little gem is no longer in print (Amazon search, anyone?).

Although the plane was all bare metal (aluminum), the leading edge had a super polished look to it, so I used ultra bright chrome Bare Metal Foil (BMF) on those sections. I added a matte section of BMF to the fuselage sides, also shown in the booklet. I added one last flair: Again, there was a sketch in Mr. Davisís booklet showing a boarding ladder made for this aircraft. It was simply designed and fairly easy to construct. Ah, but I had a ladder in my box of spare parts from other 1/48 kits that almost mimicked the one shown in the booklet, so I used it, adding a fashioned brass rod at the top as a hook for the inside cockpit wall.

Lastly, I pulled out a pair of wheel chocks I had fashioned for one of my earlier 1/48 ARC submissions and reused them.
Carl Jarosz