I am finally presenting my completed Kinetic 1/48 F/A-18C Hornet, VFA-151 Vigilantes. This was built to be a "working girl"...dirty and loaded for combat. The Kinetic kit is not bad, but is sure no Tamiya kit. The first go through of this kit met an unfortunate end in a Testors dullcote disaster. But such is life, and away I went again. There is a build thread located here on the ARC Forums.

The build included:
Kinetic 1/48 F/A-18C Kit

Eduard Exterior PE set

Two Bob's VFA-151 sheet, USS Constellation 2002-2003 OIF Deployment

Eduard Brassin bombs/missiles

Reskit resin wheels
The goal was to build a realistically finished bird, but was dirty. Hence the desire for a combat deployed line bird. I looked at some Marine schemes, but also wanted to fold the wings. So that got me to the Two Bob's sheet. The decals performed well, but I don't trust/believe the color for the tail art still. I think they're too blue and too light.

The use of the Eduard set started as a replacement for the fuselage slime lights lost in filling, and then used the rest of the set. The Brassin munitions are things of beauty. The Reskit wheels were used because...well the kit ones are hideous.

The landing gear wells are out-of-the-box, but all the piping was carefully and then the piping clips painted for added color. The CMS dispensors were "loaded" to reflect a mission ready bird being powered up by the pilot.

Some time was taken with the Eduard munitions. They really standout when finished well. The AGM-65 was kept pretty clean based on reference photos, but the Sidewinders and LGB-12 got some weathering. Also seen is the chipping on the front of the pylons that seems pretty prevelant on the Hornets.

The other wing was loaded with an LGB-12. This also shows a good closeup of how impressive the Sidewinders are.

The gun door ordnance markings were added with a pencil, again reflecting a mission ready bird.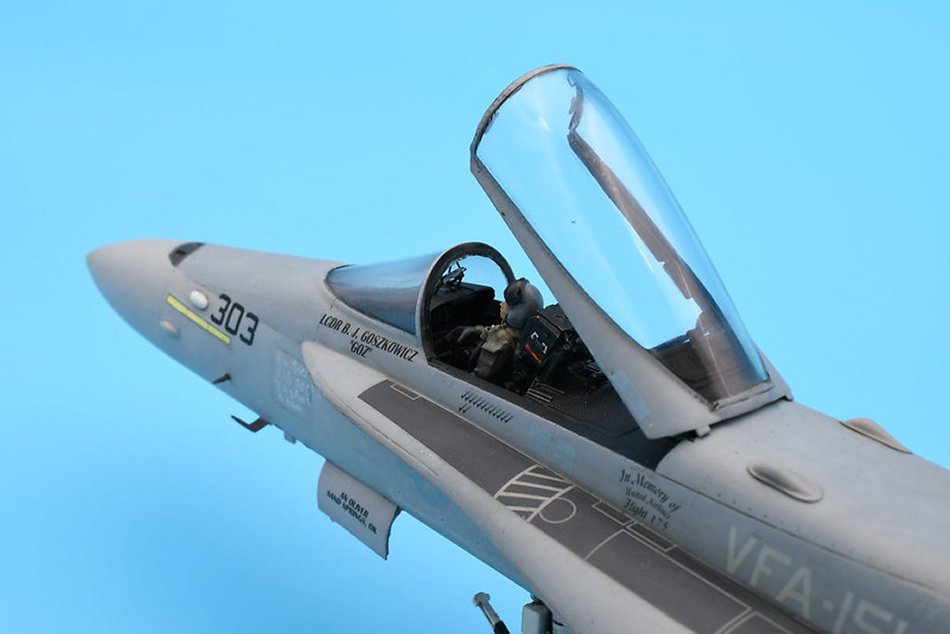 All of the upper surface weathering was created with oils.

A good view of the Maverick seeker head, which again, is a gem from the Brassin set. A bit of detail can be seen on the main landing gear as well.

The aft side shows the burner cans, some corrosion control touchups, and the classic grime that accumulates around the resting/parked position of the horizontal stabilizer.
The sump vents were also weathered with oils. This close up also helps show the mottled overall finish.

As always, comments, questions, or criticism are welcome! Thank you for looking!
Eric
Click on images below to see larger images