And now for something completely different. The 50th anniversary of the first moon landing generated a wave of space flight related kits to be reissued including this one. It's the mercury capsule (spacecraft) on top of the, then still, slightly unreliable Atlas rocket. In an attempt to keep up with Soviet advances John Glen was sent up for the first American orbital flight. The launch went perfectly but unfortu

nately the flight had to be cut short due to uncertainty about the state of the spacecraft. Atlas rockets have turned out to be very reliable in the end and are still being produced in Huntsville Alabama.

I remember this flight as portrayed beautifully in the 1983 movie "The Right Stuff" supported by "The Planets" by Gustav Holst (Jupiter at the moment of launch). So, ever since I saw that scene I had wanted to build an Atlas rocket with a Mercury capsule. And here it is.

The kit is dated. The original kit was first released in 1962 and was actually an adaption of an even older kit without the Mercury capsule. The moulds show their age but, believe it or not, fit was all but perfect. Lots of flash needed to be scraped and sanded away but that was sort of the standard in the earlier days of model kit building. As the pictures show, this model includes the launch pad and ramp accompanied by a number of vehicles. The vehicles are slightly toy like but the launch pad is amazingly detailed for a kit of this age. What's not included is the giant red service tower. I decided not to build one myself.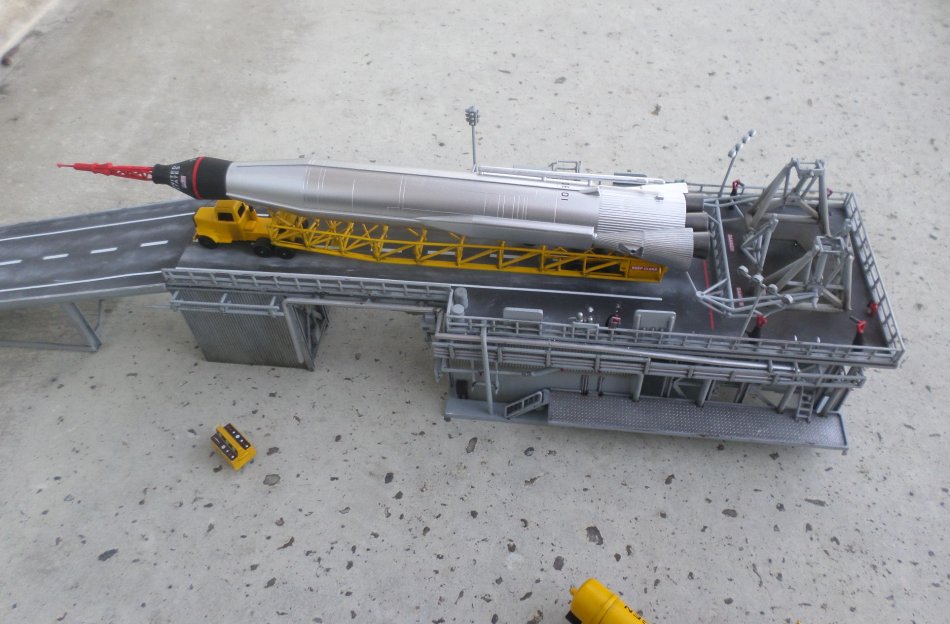 I painted the base with several grey and metallic hues and used chipping fluid to imitate wear. These buildings were of course subject to immense forces and abuse during the many launches that took place during the early days of space flight and I wanted to show that. Oils and a regular wash were used to make the place dirty.
The Atlas was spayed with Vallejo chrome and gave me the intense clean and reflective surface I was after. I hope you enjoy it as much as I did during the build.
Klaasjan Schuuring