Here are my two Starfighters in 1:144 from Airfix and Minicraft.

The kit from both companies is the same and very old, I remember I built it three times as a child, more than 30 years ago, from Revell.

I wanted to have the Navy Starfighter in my collection. The US Navy had three Starfighters (one YF-104 and two F-104A) to test Sidewinder-missiles.

Minicraft allows to make one of this Navy-Starfighters. Another A-version of the USAF can also be made from the included decals. On the box you read "F-104A" But the kit is a G-version, with the longer tailplane, so I wonder why the second offered version is also a "A" and not a "G"... . In the instructions is shown that the vertical stabilizer has to be shorted, but the shown shape is not correct, it must be even shorter. So I sized down and printed a side view to get the correct contour.

I like the Ferrari paint scheme of the Italian F-104G, as Airfix offers this old kit. The Airfix kit came from the same mould but fitting of the parts is horrible, on the Minicraft kit it´s OK. Seems that Minicraft has reworked the mould successfully, because this kit is newer. The upper side of the fuselage halves in the Airfix kit is flat(!). I corrected this with some putty and made a new, thin rack between the canopy and the vertical stabilizer out of stretched sprue.

I wanted to show the red Starfighter in the air, so I made a display for it. Inside the fuselage I placed a block made out of polysterene, to put it on the steel wire (Ø1 mm) of the display. A pilot figure from Heroes Models ( https://heroesmodels.it/ ) took a seat inside the cockpit. For both models I made covers for the instrument panels (it´s also just flat there) and added the gun sights (it´s not really a HUD, the 104s had).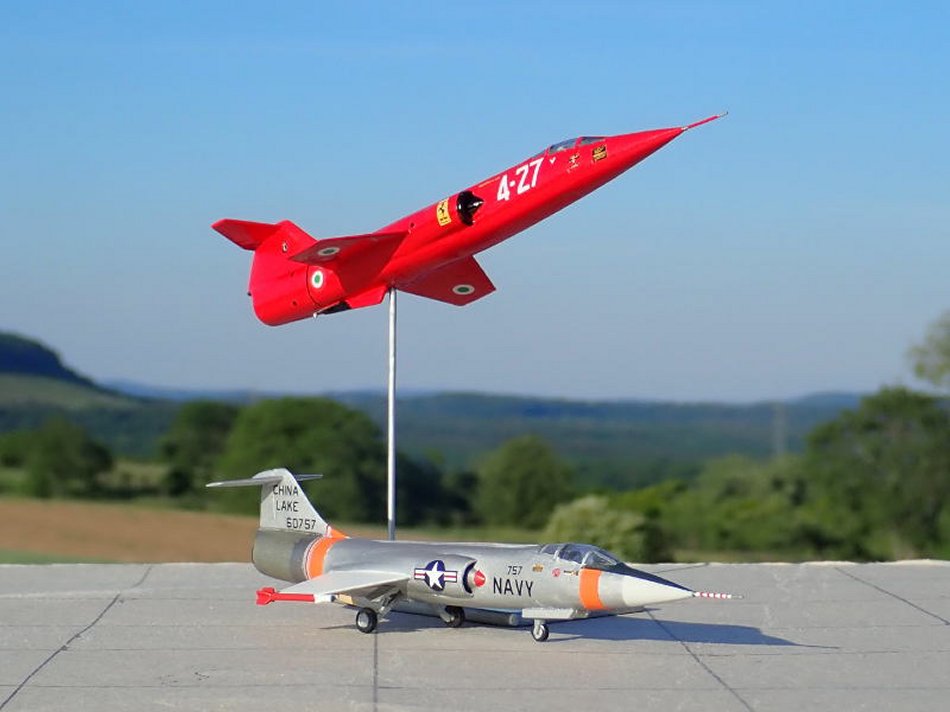 I added the pitot tube and the hook beside the fin made from stretched sprue. On the Navy-Starfighter the muzzle of the gun must be closed, as I saw on a original picture of the 60757.

Both models were painted with brush and colors from Humbrol and Revell. The Ferrari-Starfighter was sealed with shiny, clear varnish; on the Navy-Starfighter I sprayed silk, clear varnish.

Enjoy the pictures!

Greetings from Germany
Thomas Brückelt