Hi All fellow modellers! Here I like you to present my 1/87 Faller "military kit "Heli-hangar". After my 1/87 Preiser military Shelter and NATO observation tower kit builds I found this huge kit in Denmark for sale. It is long OOP and very hard to find these days. It took me a year to start the kit but once I found a picture on a greek spotters website showing a hangar it inspired me to finish it. I was impressed by the fantastic camo used on the various HAS and buildings on that particular airbase.
The kit's clear instructions and perfect overall fit make it an easy build. It measures 50x50 cm and can be used for 1/72 aircraft. Preiser military also included a huge hangar in its catalogue, with a small control tower, but both consist of carton parts and dates old-fashion to me. The Faller kit is much better as it is solid, fine quality plastic and easy to store.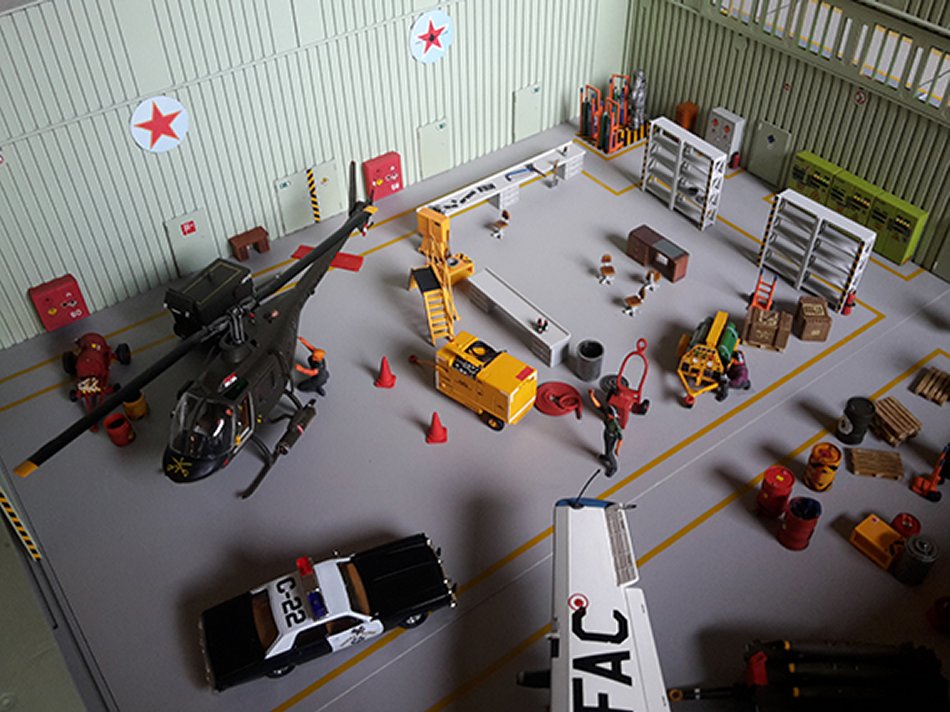 In the meanwhile I finished some Preiser airport runway lights (lots of em) and signs used together with the roll-bahn foam parts. I still need to finish the taxi-runway tarmac markings with black and need more smaller hand-made bush. Some pictures show pine trees and French jaguars taking off, little unthinkable for a greek airbase but it is fun to experiment.
The palm trees come from Preiser. These are quite nice, you have to sacrifice some to end up with more leaves.
In my opinion the hangar paint-scheme looks a bit psychedelic but it proves to be used in real (Btw: overall green is boring). I am quite happy with the result. I hope you like it.
Happy modelling.
Duncan
Click on images below to see larger images