The J-8 II is a later version of the J-8, the most prominent difference being the air intakes moving to the sides instead of the nose cone intake design. The aircraft is Chinese, and started it's design life as a reverse-engineered MiG-21, expanded in size, picked up lements of the MiG-19 and MiG-23 and finally emerged as a large supersonic interceptor, larger than an F-4 Phantom. It remained in Chinese service, and was never exported.

Trumpeter's kit is nicely engineered and well-detailed, and it builds without any major issues. Barely any filler required, and only a bit of sanding to remove the usual seam lines. The instructions are fair enough, except for the weapons , pylons and stencils, where you are encouraged to allow your imagination to take over. I put these using reference photos (of which there are understandably few), and some guesswork.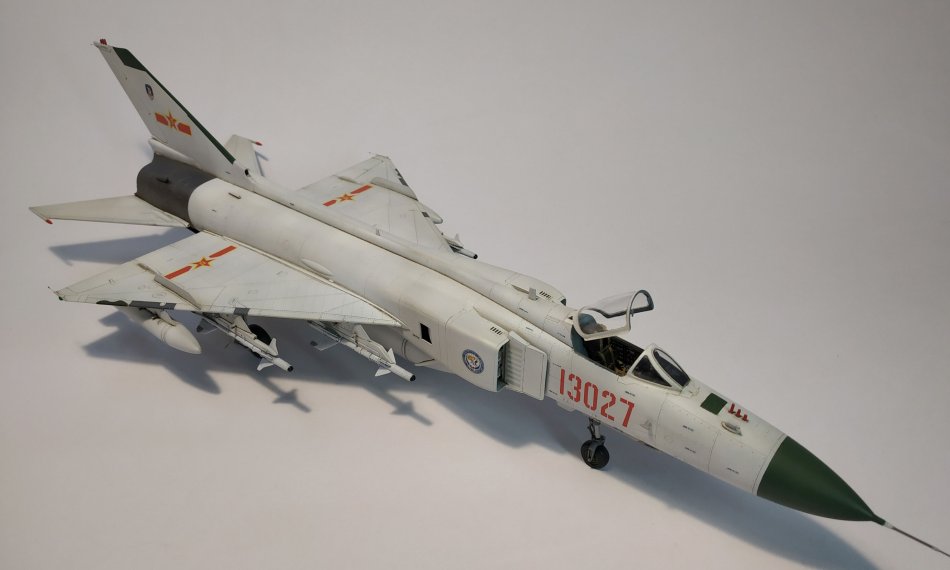 The kit is built OOB, in one of the provided paint schemes. The all-white finish is a pain if you're using acrylics, but it worked out decent enough eventually. Paints used were Daler-Rowney, Vallejo and Italeri. Panel lines and weathering is with oils, very mild weathering as most photos show the paintwork in almost immaculate condition.

Best wishes from India...
Bob TheDoc