F-86K Sabredog, Venezuela Air Force
Continuing with the commemoration in 2020, of 100 Year Anniversary of the Venezuela Air Force.
In 1965 the Venezuela Air Force (FAV) bought 74 German F-86K Sabredog jets from the German Luftwaffe, replacing the already obsolete and aging English DH Vampires in the Fighter Squadrons. These interceptor fighters were very problematic, only 30 were able to enter operations, the other 44 were used as a source of spare parts.

They were finally withdrawn from service in 1974, being replaced by modern French Mirage IIIE fighters. Currently there are several originals F-86K in some Venezuelan cities, exhibiting in squares and entrances of military installations.

To build my model, I used the 1/48 scale kit: F-86K Sabredog from MustHave, make some "scratchbuild" modifications to adapt it to the F-86K of German origin, the paint used is acrylic from Model Master; this particular color (light grayish blue) of this aircraft, is a mixture of blue, gray and white to achieve a similar color of the F-86K exhibited in the Maracay aviation museum; the decals are home made, although I also used some from the own model.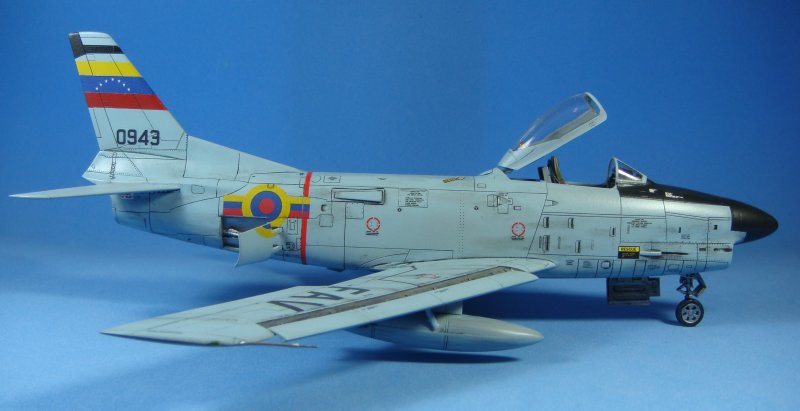 Enjoy the photos.
RSK48, Rafael