P-47D Thunderbolt, Venezuela Air Force
Continuing with the commemoration in 2020, of 100 Year Anniversary of the Venezuela Air Force.
After World War II ended, the arrival of American aircraft, from the leftover warehouses of the United States Air Force, began in the Venezuelan Air Force. This project was called ARP (American Republic Project) in it started with the arrival of N.A. Texan T-6G training aircraft, Mitchell B-25 medium bombers, and others; as well as the famous WWII fighter Thunderbolt P-47. The first six Thunderbolt P-47D landed in Venezuela in 1947 and were part of the Aviation Regiment No. 1 Fighter Group. In 1949, 22 additional airplanes were received, with which the C-36 Los Diablos Fighter Squadron subsequently originated.
With the beginning of the arrival of English Vampire jets, the P-47s were slowly withdrawing from operations, and were definitively put out of service in late 1955
I am showing two models: early marking P-47D 23-A-36, and later marking P-47D 10-B-36.

To build the Thunderbolt 23-A-36 I use the Tamiya "Republic P-47D Thunderbolt Bubbletop " model kit, 1/48 scale. Made some scratch modifications, to bring it to P-47D Venezuelan version; the most important one in the tail stabilizer, placed on the rear top of the fuselage. The decals I use are from Aztec, a present from my modeler friend Freddy Pedriquez. Testor Model Master acrylic paint was used.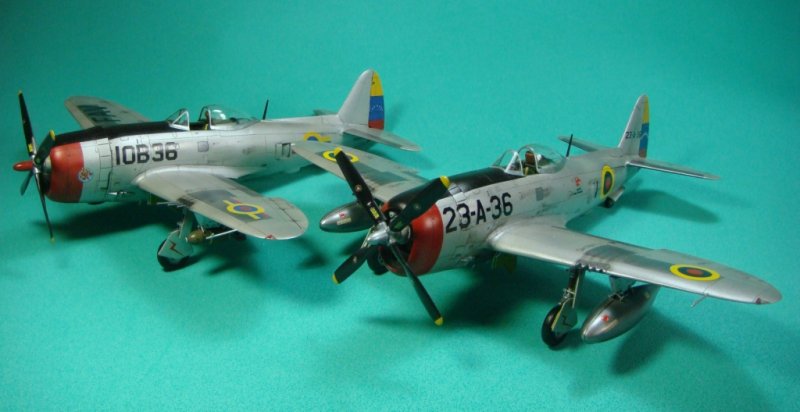 The second model is a replica of the P-47D Thunderbolt 10-B-36, still standing in the FAV air museum in Maracay, using the 1/48 scale Tamiya "Republic P-47M Thunderbolt" model. Decals on this plane were homemade.
RSK48, Rafael