Hi fellow modelers, here is my Academy's 1/72 scale F/A-18C from "Chippy Ho! 2009" edition (No. 12432), built right almost out of the box. This was built a few years ago.

Building this Academy's Hornet 1/72 is not really difficult, you need putty to smooth the gap in the front fuselage and joint between intake and lower fuselage. Academy's Hornet 1/72 comes with nice details, rivets are sprinkling over whole kit's surfaces, cockpit panel have molded in raised, SJU-5/6 ejection seat have molded nice too and looks fine in 72nd scale.

First I wanted build it OOB but after the building process I want made some difference from this kit, so I had decided to made little bit different, especially on kit's marking.

This kit (Academy's 1/72 F/A-18C No: 12432) comes with special markings of VFA-195 "Chippy Ho!" 2 options for CAG's Bird (April 2009 and November 2009) and 1 option for NAG's Bird. IMO, I kind of don't like it much for this CAG's Chippy Ho liveries, too much bling-bling I thought, so I had chosen livery for NAG's bird but with little different, yes I want to change this NAG's bird marking when VFA-195 had involved in 1st phase of OIF 2003. This idea came from when I had read Osprey Combat Aircraft #46 "US Navy Hornet Units of Operation Iraqi Freedom Part One" where I see Chippy 401 on launch position with loadout for CAS purpose, hmm.. nice idea I thought. Additional markings came from self-printed decals and masking technique.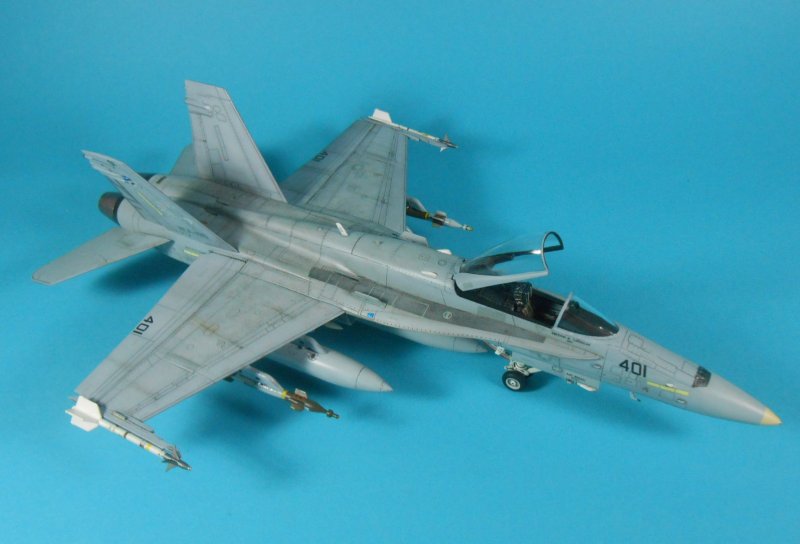 I had used Mr. Color lacquer paints standard for Hornet's Tactical Paint Scheme and weathering was accomplished via Tamiya Enamel Paints and some artist oil paints mixed in enamel thinner. First time I want made SEAD loadout for my Legacy Hornet kit but because CVW-5 that become house of VFA-195 is dedicated as CAS Carrier Air Wing as long as when OIF 2003, so CAS loadout is correct choice for this time. I had took a couple GBU-12s from the kit and single Mk-82 from 1/72 Academy's F-15E, couple AIM-9Ms from Hasegawa Aircraft Weapons V and single AIM-120C from 1/72 Academy's F-22A.

Well, that's it for this time and enjoy the photos, I hope you happy….

Stay healthy people… stay at home and stay away from #covid19
Thanks Steve...
Andri Sanjaya