The F-86D was to provide an all-weather capable, radar equipped, after-burning jet with a single seat. To this point all-weather fighters of any country were 2 seaters.
General Electric and North American co-operated for over 2 years to provide the necessary electronic systems. Starting with a 50-killowatt radar and ending up with a 250-killowat set. Clamshell canopy, automatic pilot, combination of stabilizer and elevator into one movable surface, complete hydraulic controls and a 30 inch fiberglass radome.
A letter of contract for 122 D (NA-165's) was made out in October of 1949, shortly after the news of the first Russian atomic bomb. The first production order for the F-86D-20's was received by NA on November 15, 1950. With the first one D-1 accepted by the Air Force in March of 1951. Fixed price contract for 636 D-25 to D-35 jets was made in July of 1951. It was worth 86 million dollars with an estimated 8% profit worked into it. By this time cost for raw materials of fighters had increased by four times, with a complete Sabre costing about $100,000 compared to a P-51H at about $20,000.
The D-1 had an empty weight of 13,677 pounds and combat weight of 16,292 pounds, at order the respective weights were 12,470 and 15,290 pounds at combat. With the production engines producing 5,425 pounds of thrust and 7,500 pounds using the afterburner the top speed was 692 MPH, at order expectations were 707 MPH. This compared to the F-89C at 650 MPH and the F-94C at 640 MPH. With this performance two-thirds of the Air Defense Command Wings were equipped with the F-86D configuration. The initial three ADC groups were formed in June 1953 joining seven other F-94 groups.
A mission started with a 2-minute warm-up and taxi followed by another 2 for take-off. Lifting off at 143 MPH, hitting the afterburner for 11 minutes it reached 45,000 feet. This gave it enough fuel for 5 minutes of combat at full power and 40 minutes of loiter time. Mach 1.17 could be reached at 30,000 feet, with a dead engine glide of 10 miles for every 5000 feet of altitude at 213 MPH indicated airspeed.
Long runs for landing hampered the F-86D, a drag chute was recommended in 1951. When units that were assigned to the Far East Air Forces in December 1953, they could not be used because of very short runways in Japan. A 15.6-foot diameter chute was designed and tested resulting in a reduced landing roll from 2,550 feet to 1,600 feet on dry or wet runways. Chutes were fitted on all production aircraft starting with the -45 and all aircraft afterwards.
The D's were beginning to be fitted with two sidewinder missiles in later 1956, only the "K" version was equipped with four 20 mm cannon and missiles.
A pressing need for NATO was an all-weather fighter, the F-86D filled the bill when the De Havilland Venom performance could not meet expected levels.
The F-86 in one form or another was the most widely used aircraft of the 1950's. Most of these via the Mutual Defense Assistance Program (MDAP) were provided to friendly air forces of foreign countries.
The Hellenic Air Force has utilized many U.S. aircraft types in its inventory, including the A-7, F-16, SB2C-5, F-102, C-47, C-130 and the venerable F-86.
During the NATO Military Assistance Program, the HAF received 110 Canadair CL-13 Sabres Mk II and at least one MK IV, from June 1954.
Elliniki Aeroporia(Greek Air Force) operated the Sabre Dog for a short time. 37 aircraft were sent to the Fiat overhaul facility at Turin-Caselle, all former USAFE aircraft, 36 D-36's and a lone D-50. The first 17 were received in May of 1960, handed over at Turin and flown into Greece by pilots of the 112 Combat Wing.
It is said the transition from the Sabre to Sabre Dog went smooth, with the pilots indicating the "D" was easier to fly than the "E". This was the first aircraft the Greeks used without machine guns or cannon and there first All-Weather aircraft in inventory.
337 Mira – MAPK – All Weather Interceptor Squadron.
This was the first unit to equip with the "D" at Elefsina in the summer of 1960. The unit was initially commanded by Lt. Col Economou under the control of the 112th Combat Wing. Prior to the "D"'s this unit was a Fighter Bomber Squadron operating the F-84G.
Three Greek Day Fighter squadrons, 341st, 342nd and 343rd, supplied F-86E veterans as 337 MAPK's initial 25 pilots. After USAF training another 8 were posted to the squadron.
In November 1966 337 MAKP started conversion to the F-5A/B and was moved under the control of 111 CW. The final Sabre Dogs were withdrawn in May of 1967. There are reports that 6 to 7 were operational with 114 CW until the first F-102A's arrived.
A number of 337 MAKP aircraft were camouflaged, green and brown, in later service.
343 Mira – MAPK – All Weather Interceptor Squadron.
343 MAKP was operating F-86E's under 111 CCW control at Nea Anghialos, a number of 337 MAKP pilots were moved to this unit to transition the squadron. The first CO was Maj. G Gikopoulos on Feb 24, 1961, eventually became AF Chief of Staff , National Defense Chief of Staff and finally Under Secretary of State for National Defense.
343 MAKP was the first unit to lose its Sabre Dogs in November 1965 to the F-5A/B Freedom Fighter. One fatal "D" accident occurred when Capt. Tirovolas crashed near Nea Anghialos, where he died five days later with serious burns at the Hippokration Hospital. He was one of the original 337 Mira pilots posted to help with the transition.
After retirement Sabre Dogs were used as decoy aircraft on some Greek airfields, with one reportedly surviving until 1996.
Build
Both jets are the Revell kits #5960, with the parachute housing. Missiles were taken from Academy F-86 Saber kits. Decals from Hi-Decal 48-014, with markings for a Royal Thai F-86L, Philippines D-36 and two D-36 Dogs from the Royal Hellenic Airforce.
337 Mira
Aircraft: F-86 D-36 (16171)
Airbase: Elefsina, 1965.Paint: AS-11 RAF Medium Sea Grey, AS-10 RAF Ocean Grey and AS-9 RAF Dark Green camouflage; Tamiya TS-29 Semi-gloss Black Nose cone and anti-glare panel. Overcoated with Testers Dullcoat spray
343 Mira
Aircraft: F-86 D-36 (18305)
Airbase: Elefsina, 1963.Paint: Tamiya TS-17 Gloss Aluminum overall; Testers Steel Upper and lower wing panels; Tamiya TS-29 Semi-gloss Black Nose cone; AS-14 USAF Olive Green Anti-Glare and Tamiya AS-9 RAF Green Tail. Overcoated with Tamiya Semi-Gloss Clear spray.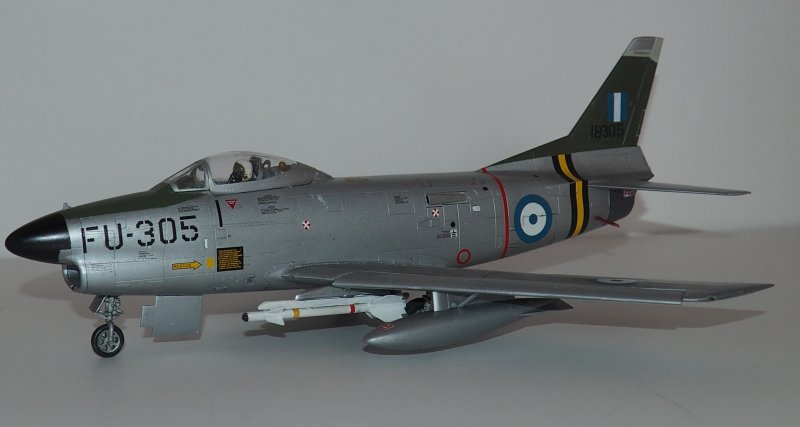 Sources:
Hi-Decal Sheet
www.haf.gr web site
Revell Instruction sheet
North American Sabre Dog Part Three – By Duncan Curtis
North American Sabre Dog Part One – By Ray Wagner
Wikipedia
Thanks to Steve for his great site and providing readers a means to provide articles.
Respectfully,
Mark L. Rossmann