The famous MiG-21 had many different types in Hungary, the most modern version in duty was the MiG-21bis AP75. The last flight of this type was at the end of august in 2000, after this the withdrawn aircrafts were carried, collected at the Airbase of Pápa. After they were withdrawn, visitors were able to see the "Old Warriors" for a while.

Sadly the state of the aircraft greatly decreased during the years, but some of them were bought by Hungarian and foreigner collectors aswell and they become parts of exhibitions. Luckily the the showcased aircraft with the number 41 also survived the trial of time.

I used photos from the Open Day that was held in 2007 as a reference when I built the model, representing the state it was in by then.

To achieve that, I made various upgrades, conversions on the Zvezda model.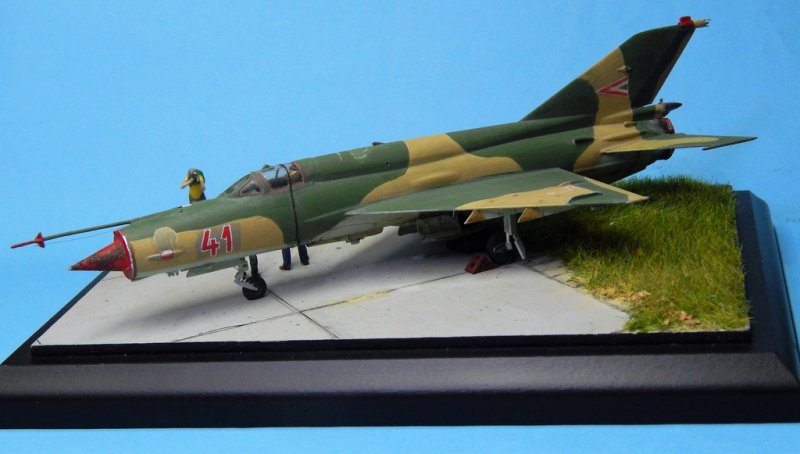 I upgraded the catapult seat and bent the fin. Created the holes, the covers on the beacons and replaced the antennas with the proper ones.

I moved the fans on roof as they usually were on the MiG21bis AP75 types.

I also did the wheel wedges and the oil stains under the aircraft according to the photos.

I painted it with brush as I usually do, with a mixture of Humbrol paints. The stickers are from HADModels. As for the weathering, I used AK and MIG effects.

Lastly I added the minifigures to the diorama, they were 3D printed by the hungarian B3D Models.

Photos about the original aircraft:

http://hunavia.freeweb.hu/TYPE/MiG-21%20base/MiG-21bis/MiG-21bis_serial/MiG21BIS_APIDNo41/index.html
And the last fly of the hungarian MiG-21: https://www.youtube.com/watch?time_continue=233&v=ypkrzURQ5Kw&feature=emb_logo

Happy Modelling!
Best Regards from Zalaegerszeg (Hungary):

Géza Szekér

Click on images below to see larger images