Hi all!
Here is my freshly completed 1/48 Hasegawa F-22A Raptor of the 1FW, Langley AFB, 2008.

So when considering building a Raptor, two things usually come to mind before starting: How to handle the metallic "Raptor Sheen" and "Gold Iridium" tinted canopy. I have seen various approaches to solve these issues, with varying degrees of effectiveness. But since I like to experiment and try new methods, I decided to try techniques for both that I had not yet seen done. For the "Raptor Sheen", I decided to paint the normal camo colors (non-metallic), and then add a light coat of Alclad Airframe Aluminum on top of those colors. I wasn't sure how that would come out, but once completed I was pleasantly surprised by the subtle variable sheen I was getting and how it really blended the camo in a very realistic way to my eye. Hmmm, maybe I was on to something! I did worry about how the sheen would hold up after the gloss coat, wash, and flat coat, however. And indeed, the sheen was diminished quite a bit after these steps, so I did go back in after the flat coat was applied and added some Airframe Aluminum randomly and very lightly. This actually really worked well, because this gave the model a bit of an uneven sheen, which seems to be what happens on the real aircraft as it weathers. Since I was going for a moderately weathered Raptor, this was right on point for what I was looking for.

As for the canopy, this is something I had been thinking about how to handle for a long time. I did experiments a while back on a spare Tamiya P-51 canopy and found that a particular nail polish I found on eBay worked pretty well. I did not know how that would translate on a finished model, but was very happy to see that the effect was exactly what I was looking for, and something I had not seen done on any previous Raptor model. In person the effect is very cool, depending on how you view the model and how the light hits it, the canopy is either opaque gold/reddish, all gold, or even translucent gold where the pilot is clearly visible inside. As for how I applied the nail polish to the canopy, I mixed the polish with Mr Color Levelling thinner at a pretty high ratio of thinner to polish. This was applied to the INSIDE of the canopy then dipped in future to protect the polish and to increase the canopy luster.

As for decals, the ones supplied in the kit are just not of the right color, so I had to source aftermarket, which is not easy! There is really not much available right now. I wanted to do an Alaskan Raptor, but there just weren't any usable decals I could find for that. I did luck out in finding a set of TwoBobs Langley Raptors decals, and went with those. They performed quite well and the color was right on IMHO. Other than the decals, this was completely out of box.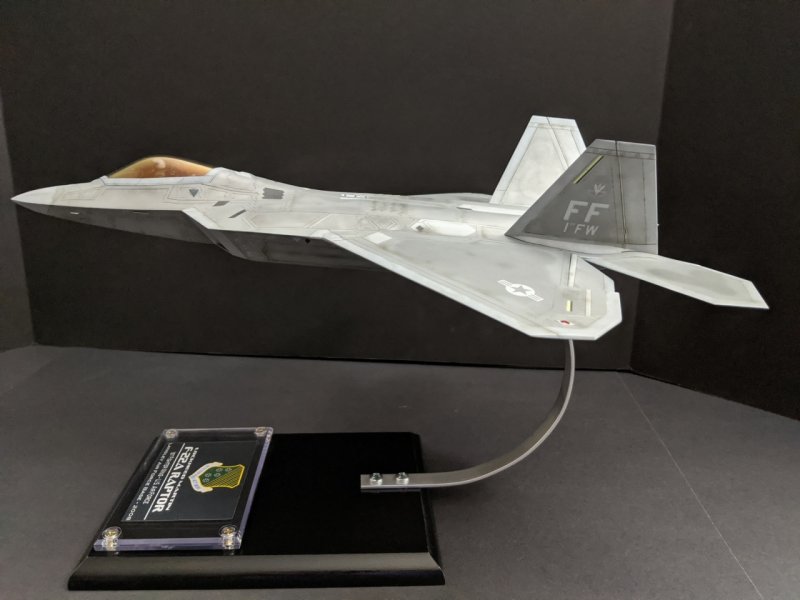 The Hasegawa Raptor is a nice kit, and fitment is quite good overall, but this is a seriously over-engineered kit. There were so many internal braces and guide pin style interior assemblies that I actually had to cut some off and remove others to get the fuselage halves to line up right. That may have just been me, so I dunno about others. Another issue with this kit is the over-scale raised panels. Many people sand these down and replace lost detail, but I wasn't really in the mood to do that, so I left them be. I wasn't too bothered with them, and on the finished, weathered model, they really don't stand out as much as they do on the bare plastic.

By doing this in-flight with closed bays, no weapons, and no landing gear it was a rather fast build of one month. This has really helped me get my modelling mojo back! Overal, I am very very happy with how this model turned out, and how my approaches to solve the problems of the sheen and canopy worked like a charm!

Here is what I used for this build:
Kit: 1/48 Hasegawa F-22A Raptor (07245 PT45)
Decals: TwoBobs F-22A "Langley's Raptors" (48-123)
Aftermarket: NONE
Paints: Gunze Mr. Surfacer Black 1500 (main aircraft primer base), Tamiya Liquid White Primer (for marble coat), Mr Paint MRP-094 FS36251 Medium Mod Gray, Gunze Aqueous H308 Light Ghost Gray and H305 Gunship Gray, Tamiya Rubber Black, Clear Red, and Clear Blue, Gunze Mr Color GX2 Gloss Black (gloss black primer for metalwork) and Alclad II Airframe Aluminum and Burnt Iron. Future Gloss coat for decals and Future+Tamiya X-21 Flat Base 6:1 ratio for final matte coat. Mig Ammo Deep Gray panel wash.

Michael Phillips
Click on images below to see larger images