1:72 Revell F-16 C, Conversion into two Aggressor Aircraft of the 18th AGS
Since I had gotten two kits of the F-16 C from Revell cheaply, I decided to build two of the Aggressor F-16 of the 354th Wing / 18th Aggressor from Eielson AFB, Alaska.

The Revell kit has already been presented several times here and in other forums. In addition to the parts required for an F-16C, the original parts of the F-16A are included. Since some new parts are required for the Block 30 C versions, a large number of parts remain from the remaining casters, including the complete payload and the parts for the engine and the small air inlets. Despite the frequent reissues, the casting quality is very good overall. Only the transparent parts cannot convince as usual.

Since the main aspect of the two models was the new splinter camouflage, which could be seen on the F-16 from Eielson from around 2018, I built the models "out of the Box".

I decided to build the
F-16C Block 30 "BDU Splinter" S / N 86-0295 and the

F-16C Block 30 "Blue-Splinter" S / N 86-0335.
I used
TwoBob Decals "F-16C Alaskan Splinters" Part II and

DNModels Camouflage Paint Mask F-16 BDU Splinter.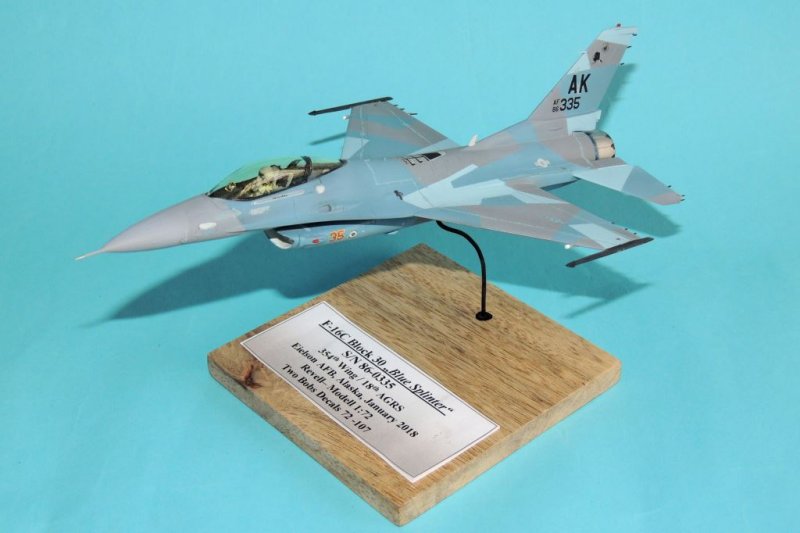 This paint mask can also be used for "Blue Splinter" and "Arctic Splinter" due to the identical camouflage pattern with the corresponding colors.

For the colors, I mainly use the original tones from the LifeColor range, Vallejo Air and Revell Aqua Color.

The DNModels Paint Masks worked perfectly, lay very well on the model and were easy to remove.

The decals from TwoBobs are very fragile and sometimes very difficult to recognize on the backing paper due to the camouflage colors. The model must be sealed in several thin (!) Layers with clear varnish before application.

Looking two some photos of the original aircraft later on, I found some small "bugs" on my models. But it`s ok.
Gerd Wilcken