After I got my radio controlled Bo-105 in the air in 2018, I thought it might be cool to have it also as plastic model.

You can see it in action here:
...and here:
Therefore I used a Revell Minikit of the Bo-105, which is hard to get and a figure from American Diorama. The fuselage length of my RC model is 1 m, so the model is about 1/17.5. The figure "Mechanic - Darwin Pushing" from American Diorama in 1/18 matches very well.
The Minikit from Revell looks fine, for it´s size and if you consider that it´s made for children to play (OK, we are big children).
But there have to be some modifications to make it more looking like a model than a toy. At first I imitated the mechanic for the inside and a cockpit. I used a figure from Preiser in N scale (1/160) and built seats and the instrument panel from scratch.

I opened the side windows and made a deepdrawn front window. I had to make the vertical stabilizer 1 mm shorter on each side, so it looks more realistic. My RC model has the tail rotor on the "wrong" side, compared to the original, also the main rotor is a 2-blade rotor with a paddle bar. I cut off the rotor blades and changed the turning direction by twisting the blades. The details of the rotor head were also built from scratch. The two antennas above the cabin and the tail rotor protection were made from a thin wire. I used baking paper to transfer the painting of my RC-model (it´s my own creation; there exists no real Bo-105 with this paint scheme) into the 2nd dimension. I took a picture of that developed view, put it into the background of a graphic program end drew it in the right colors. After I brought it into the right size I printed the decals on transparent foil.

After I attached the decals and painted the orange areas with brush, I sealed the tiny Bo-105 with silk, transparent varnish.

I had to take the figure apart to make a RC-pilot out of it. The original figure was painted very accurate, especially the face. The cap was build from scratch, also the the transmitter. Here I simply took a picture of my transmitter from the top and printed a decal. The sticks and the antenna were made from stretched sprue. The belt I made from a thin stripe out of plastic sheet, which I heated and pulled around the neck of the figure.
My figure should wear a long sleeve from Machine Head (remind my Learjet: http://www.arcair.com/Gal16/15301-15400/gal15345-Learjet-Bruckelt/00.shtm ) , so I took pictures of the original one to print decals for my figure.

The figure was sealed with flat varnish.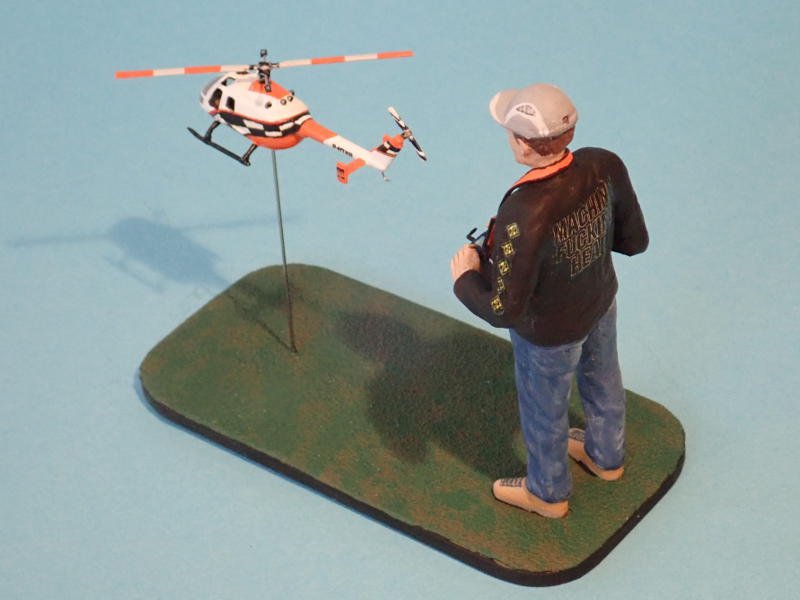 The base was made from wood on which I glued rough sandpaper and painted it in olive and green with brush and sponge.

As the lifetime of a RC model might be limited, I have my RC-helicopter in a small size in my plastic model collection now - I hope for the rest of my life. It was a challenging project and made a lot of fun to realize this idea!

Greetings from Germany
Thomas Brückelt