Hi all!

Here is my 1/48 Hasegawa F-16D Arctic Aggressor of the 18 AGRS at Eielson AFB, Alaska, 2008. I have always loved this aggressor scheme, and modelling it in a two-seat F-16D variant seemed only right!

The Hasegawa F-16 kit is actually quite nice for it's age and very good fit. It is a rather simple kit, not a huge amount of parts really and I enjoyed the build. The F-16D kit I used is an older one, and did not have the correct "wide mouth" intake I needed, so I sourced that from a Hasegawa F-16CJ kit I have. As far as aftermarket, I used a Black Box F-16D cockpit set, Master Model Pitot, the Hasegawa Weapons Set for the ACMI pod and Meng U.S. Weapons Set for the CATM-9. The other sidewinder with no front fins (not sure what this one is called, TBH) is from the kit and just modified by removing the fins and rounding the nose substantially. As for decals, I was used Afterburner Decals Arctic Aggressors set. I got really lucky finding that sheet at a local show for less than $10! I have been very lucky finding rare decal sets at the Cleveland Model Show over the years.

Other than that everything else is OOB.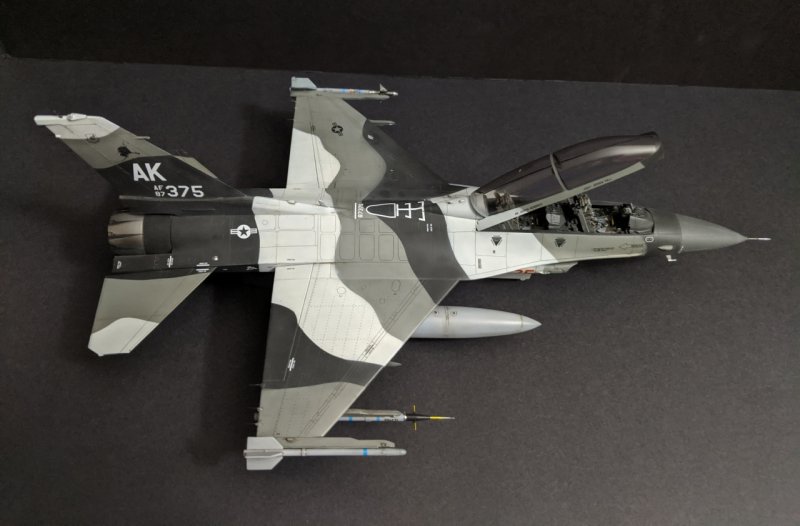 Despite the ease of this kit it took me a long time (by my standards) to build due to modelling mojo loss and winter doldrums I suppose. The finished product, while I am happy with it, is not my best work to be sure. Cut a lot of corners and didn't put my usual effort into it.

Here is what I used for this build:

Kit: 1/48 Hasegawa F-16D FIghting Falcon (06106 V6)
Decals: Afterburner Arctic Aggressors (48-034)
Aftermarket: Black Box F-16D Cockpit Set, Master Model Pitot, Hasegawa Weapons Set D (X48-8)
Paints: Gunze Mr. Surfacer Black 1500 (main aircraft primer base), Tamiya Liquid White Primer (for marble coat), Mr Paint MRP-246 FS36628 Arctic Gray, Gunze Aqueous H317 Dark Gull Gray and H305 Gunship Gray, Tamiya Rubber Black, Clear Red, and Clear Green, Gunze Mr Color GX2 Gloss Black (gloss black primer for metalwork) and Alclad II Airframe Aluminum and Burnt Iron. Future Gloss coat for decals and Future+Tamiya X-21 Flat Base 6:1 ratio for final matte coat. Mig Ammo Deep Gray panel wash.
Michael Phillips
Click on images below to see larger images