Vultee BT-13 Valiant Venezuela Air Force
Continuing with the commemoration: 100 Year Anniversary of the Venezuela Air Force

The Vultee BT-13 Valiant was the basic training aircraft for almost all USAF pilots during World War II. It was the plane of the second phase of basic training of a three-phase program for the new pilots. Although it was equipped with a more powerful engine than the primary phase training aircraft, it did not, however, have retractable landing gear nor a hydraulic system. The large flaps are operated by a crank-and-cable system.

In July 1944, through the "Lend-Lease" (loan-rental) agreement with the US, the first 10 Vultee BT-13 Valiant arrived in Venezuela, out of a total of 23 of these fixed landing gear trainers. This planes completed the task of training of pilot students from the Military Aviation School. Like the USAF pilot cadets, the BT-13 was a basic coach of the second phase pilot training, of a three-phase program. Started with PT-19, followed by BT-13 and end with AT-6. In the late 1950s the remaining BT-13 began moving to a Civil Aviation School, where they ended their operational life in 1958 when they were replaced by the T-34A Mentor.

It is worth mentioning that 18 Latin American countries operated the Vultee BT-13 Valiant: Argentina, Brazil, Bolivia, Chile, Colombia, Cuba, El Salvador, Ecuador, Guatemala, Haiti, Hondura, Mexico, Nicaragua, Panama, Paraguay, Peru, Dominican Republic and Venezuela.

For the construction of the Venezuela Air Force (FAV) BT-13, serial ET-4, I use "BT-13 Valiant" model kit, 100% in resin, from Czech Planet Model in 1/48 scale. The construction was done practically OOB, with very few details in "scratch"; although the "fitting" of the model is not the best, it requires a lot of putting and sanding, but an acceptable finish can be achieved. The paint apply is acrylic from Model Master. Decals are custom, homemade.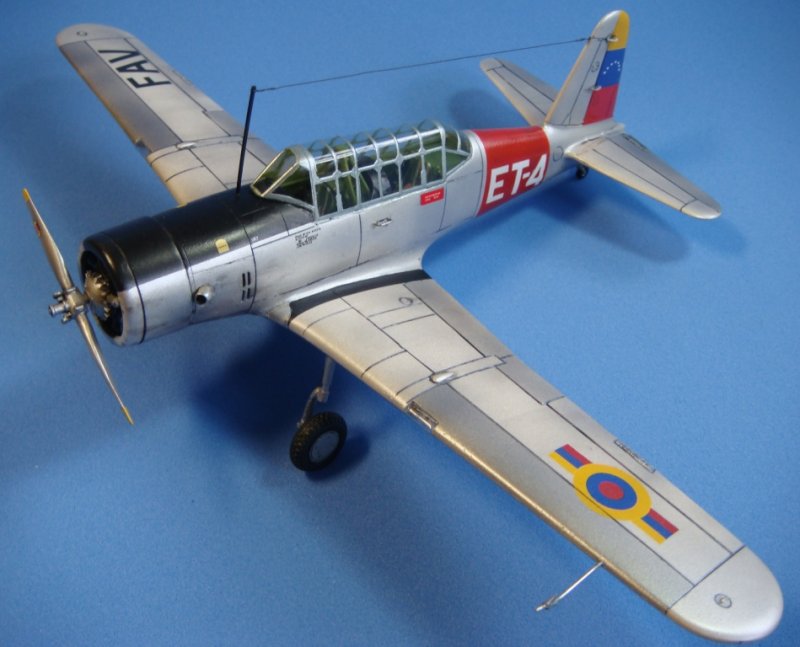 Enjoy the photos.
RSK48, Rafael