I build models kit's for a long time in my quiet little room in front of me. Preferably rebuildings and special paintings in 1/32. Now I want to show one of my conversions.

Since I've always liked the T-38 Talon quite well, I've always been looking for a kit in 1/32. Although this machine is probably one of the most important training aircraft for jets, unfortunately, no manufacturer has managed to bring this machine to the market as a 1/32 plastic model. With the recently released F-5E by Kitty Hawk I came up with the idea to use it as the basis for a conversion.

At the beginning, however, I had no idea how costly it was going to be. At first I thought it would be enough to rebuild the bow, but unfortunately it was not enough.

The back of the fuselage had to be changed in shape, the bulge under the rudder removed, the wasp waist formed at the bottom fuselage, adapted the landing gear shafts and the air intakes are reshaped,
as well as the nose gear (which I still do not quite like) that was a big pile putty and sanding work until it looked like it wanted.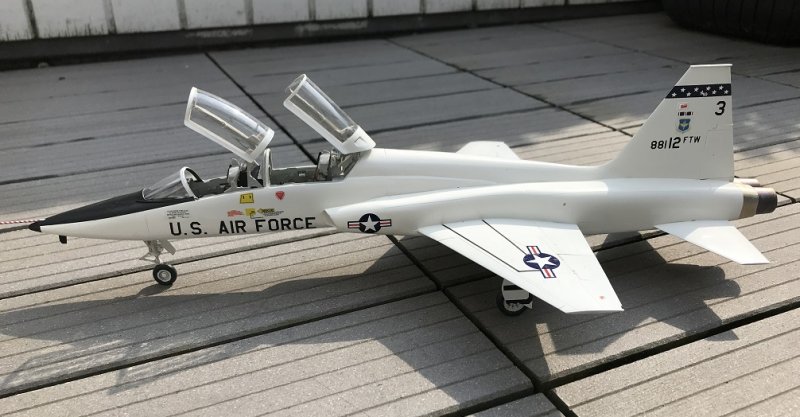 That it does not correspond to 100% of the original (for example, the cockpit has remained of the F-5) is very clear to me, that was not the goal, but I think about 80-90% I have met the model. It was important to me that the machine looks like a Talon and I think I've achieved that.
Torsten Schroeder