This is the classic Monogram 1:48 scale B-58 Hustler, represented here as the "Hoosier Hustler", #59-2461. The plane hailed from Bunker Hill Air Force Base in Peru, Indiana, home of the 305th Bomber Wing, circa 1960. The overall model shape from Monogram was very accurate though it was molded with raised panel lines and it lacked any significant detail, such as WSO and Navigator crew cockpit spaces, and engine nacelle detailing. In light of those deficiencies I sanded down all of the panel lines, and used Bare Metal Foil, specifically the new and improved chrome variety, and cut panels that matched those on the airplane. I taped tracing paper over the foil using small pieces of Tamiya masking tape, and carefully pencilled lines on the tracing paper replicating the rivet patterns on each individual panel. Then, with a straight edge, I used the Unique Master Model Rivet tool, for 1-48 scale rivets, and rolled out the lines of rivets. The tracing paper served both as a guide and as a way to dampen the effects of the rivet tool on the fragile foil. I then peeled the foil off of the backing paper and applied it to the appropriate place on the airplane. If I didn't like the look, I would just make another panel. It was much easier than to try to place rivets directly on the very brittle styrene on this older Monogram model.

To enhance the engine nacelles I had to move the conical spikes back into the nacelles due to inaccuracies in the idle positioning of the spikes. I used Aires 1/48 scale exhaust nozzles which were a big improvement. As for the cockpit I used the Lone Star Models resin kit, which was a very big improvement. I used a Master Model pitot tube, and I rounded things out with a very nice set of Caracal decals gifted to me by my good modeling friend and ARC contributor Ian Holihan. I used 3 principal references: B-58 Hustler in Action by David Doyle, Convair B-58 by Jay Miller, and Convair B-58 Hustler by Bill Holder.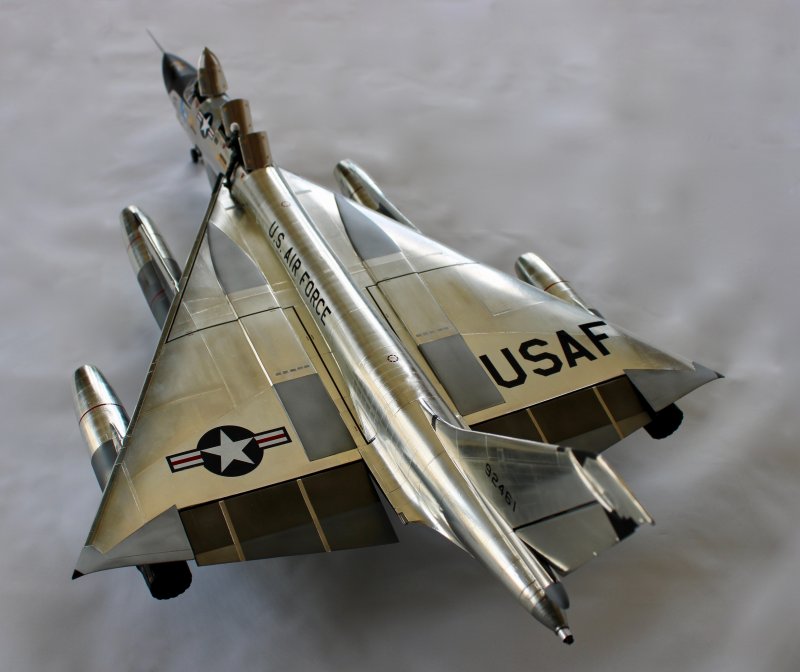 It was a very tedious project but well worth the effort recreating such an iconic aircraft. Thank you for the interest.
Tom Valaoras