Back again with my latest completed project, the Kinetic Su-33 Sea Flanker. This is a model I have wanted to build for quite some time, and a quarterly contest with my local IPMS club (John Glenn, Cleveland) gave me the excuse I needed to start this one. The contest theme was "I've Got the Blues", which was to build something that was predominantly blue. I am happy to say this model won first place!

By now I am sure you have heard much about this kit. It is complex. The detail is fantastic. Accuracy is pretty good. The instructions are, well, really bad. There is an updated PDF with new instructions online now, which are better, but still leave a lot to be desired. There are some part placement omissions, and seeing where exactly to attach parts can be quite ambiguous. But the worst part for me was the order of construction. It really just makes no sense. I built this basically just referencing the instructions every once in awhile to make sure I didn't forget something or I just wanted to try to get a better idea of how something fit together. I totally ignored the order of construction for the most part.

Did I say this was a complex build? Yeah, it is. There are tons of parts. Fitment was actually pretty decent in most places, but I did encounter issues with the intakes fitting right and the nose cone fit is just poor in general. I had quite a step to deal with no matter how much I dry fit or sanded to get it better before attachment.

I used a combination of kit decals and the Begemot sheet "Sukhoi Su-33 Sea Flanker - Mission in Syria". The kit decals really are quite nice, and the Begemot ones were as well, just like always.

There are some things I did not do exactly correctly or accurately, but overall I am very happy with the end result.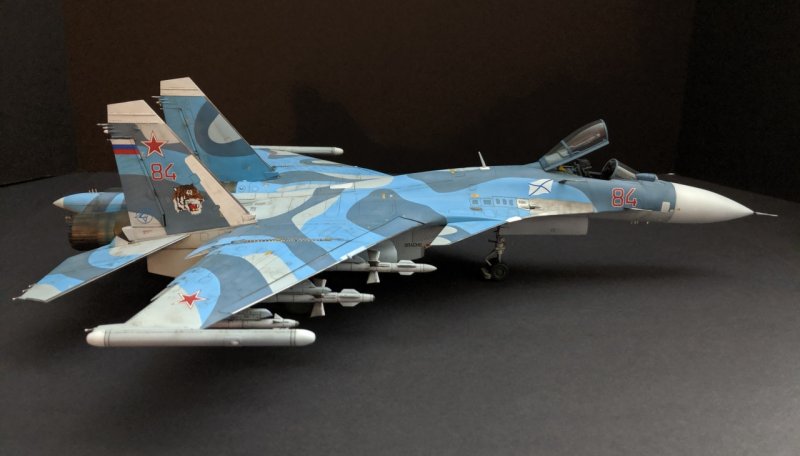 Here is what I used for this project:

Kit: 1/48 Kinetic Su-33 Flanker-D, K48062
Decals: Begemot Su-33 "Mission in Syria" 48-051, OOB
Aftermarket: Master Model Pitot Tube
Paints: Gunze Mr. Surfacer Black 1500 (main aircraft primer base), Tamiya Liquid White Primer (for marble coat), Mr Paint MRP-195 Sukhoi Cockpit Blue-Gray, MRP-032 Russian Wheel Green, MRP-199 Su-33 Light Blue, MRP-200 Su-33 Dark Blue and MRP-201 Su-33 Gray, MRP-186 Light Gray, Tamiya Gloss White, Rubber Black, Smoke, Clear Blue, and Clear Yellow, Gunze Mr Color GX2 Gloss Black (gloss black primer for metalwork) and Alclad II Airframe Aluminum, Pale Burnt Metal, and Jet Exhaust. Future Gloss coat for decals and Future+Tamiya XF-21 Flat Base 6:1 ratio for final matte coat. Mig Ammo Deep Gray panel wash.

Michael Phillips
Click on images below to see larger images