After I built the Airwolf, Bell 222UT and the Bell 430 - already some years ago - I wanted to have the Bell 222B in my collection. All models were built from the same basic kit, sold under different brands (most AMT).

The parts are not fitting very well, especially the cockpit parts need a lot of rework, to get them in the right place. So, some experience is necessary to get a good looking model out of this old kit.

Inside the dome I fitted a plastic block with a silicone tube inside, so I could insert the main rotor after the model was painted. Therefore I glued a glass fiber rod in the rotor head.

I added seatbelts, made from aluminium foil. I modified the front of the pitot tubes, so that they look more realistic, the rest was build OOB.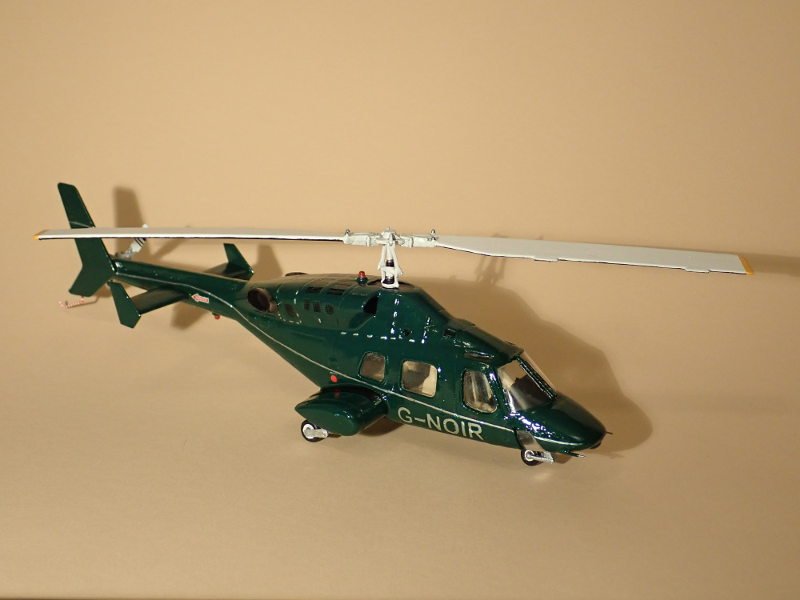 I like the painting of the G-NOIR, there are a lot of pictures in the internet of it. I printed the registrations, the black stripes on the tail rotor, "NO STEP" on the main landing gear housings, the red arrows in front of the horizontal stabilizers and the meshes on the dome on transparent foil.

The areas of the registrations were painted in silver, after that I attached the decals (the letters are transparent). When I painted the model I had to overpaint the contour of the registrations with a thin brush.

For the green I mixed dark green 62 from Revell with metallic green 50 from Humbrol.

Some small markings were taken from other decal sheets. The rotors were finished with silk, clear varnish, I sprayed shiny clear varnish on the fuselage.

The "Triple Two" is one of the coolest helicopters, I wonder why there is no newer kit, except the Airwolf from Aoshima, but this kit allows not a civil version.

Greetings from Germany
Thomas Brückelt