From the photos this looks superficially like a fairly good model: in fact, it was a major disappointment.

First problem on opening the box: where are the underwing stores? Boxtop art shows two different types of missile. In the box, however, nothing. Second, that gaping undernose air intake. If built straight from the box, it will stay gaping - with naught blocking the view over the nose undercarriage housing, back to the wing joints, ending finally at the jet nozzles.

This was enough disappointment to be going on with, I thought. At least the large canopy was nice and clear, and the decal sheet looked good and extensive. But then . . . that nose intake has some very complex curves around it especially where the upper nose blends into it. Hobbyboss designers pretty much failed to make good joints here. And for us to fill and sand is very difficult.

And then . . . the one piece wing fails to meet the fuselage in a similar way. All you can do is try to clamp the two main parts together and then fill and sand the resultant mess as much as your patience will stand. Then you will probably find the fuselage detail has largely disappeared too.

Honestly. It was a real relief to slap some Tamiya acrylic on this and get to use those splendid decals at last and begin to feel it wasn't such a bad kit after all. Only, it was.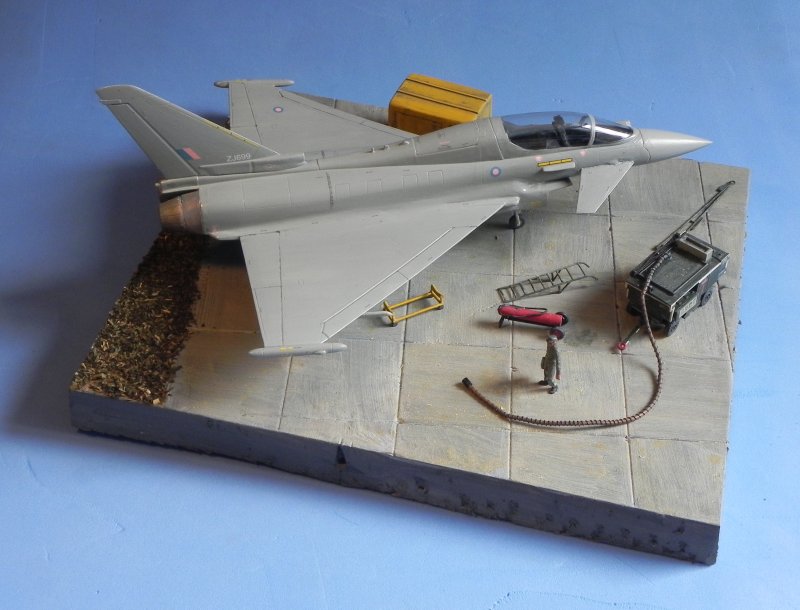 For the diorama I used my last Hasegawa ground equipment item (the green thing), plus a very old scratchbuilt item (the yellow thing) along with a few other scratched bits and pieces from modelling days long ago. The guard is a modern French character from Caesar Miniatures (the plane is visiting a French airbase, OK? Don't quibble.) while the second figure is Airfix NATO.

I can recommend everything in this diorama except - the Typhoon.
Greg Kerry