Mirage 50DV Venezuelan Air Force
In 2020 Venezuelan Air Force (FAV) is arriving to 100 Year Anniversary. Commemorating this, I am presenting the Mirage 50EV from the FAV.

In the early 1970s, the Venezuelan government chose the French delta wing bomber fighter plane, Dassault Mirage, as a replacement for the old N.A. interceptors F-86K Sabredogs of the Venezuelan Air Forces (FAV). In 1973 the first planes began arriving from France: 10 Mirages IIIEV single-seater, 4 Mirage 5V single-seater, and 2 Mirage 5DV two-seater, the acronym "V" is for Venezuela.

At the end of the eighties, a deep modernization of all the existing Mirage began. These modifications included new avionics, modification of aerodynamics and the power turbine. The Mirage IIIEV and 5V, single-seater, were converted to Mirage 50EV and the Mirage 5DV to Mirage 50DV two-seater.

Heller Mirage IIIC/B model in 1/48 scale, was used to construct Venezuelan Mirage 50DV. Aftermarket parts, from Eagle Design were used: nose, exhaust, canard fins, and pilot cabin; other small details such as lights on the wings, canard of the stabilizers were scratchbuilt, as well as the missile Exocet AM-39 (made with plastic tube, cards and wood); 1700 lt. fuel tanks are from Paragon Resin.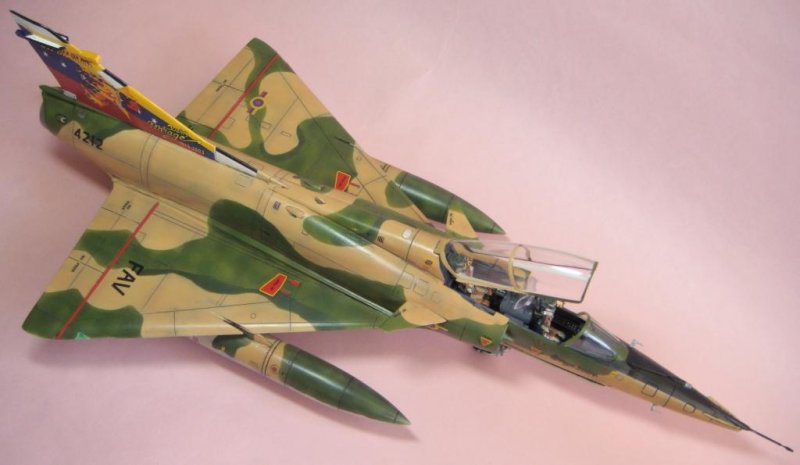 The paint is acrylic by Model Master (Testor). All the decals are homemade, including the rudder 30th Anniversary decal.
RSK48, Rafael