The Sukhoi Su-34 (NATO Code: Fullback) is a Russian twin-engine, twin-seat, all-weather supersonic medium-range fighter-bomber/strike aircraft. It first flew in 1990 and entered service in 2014 with the Russian Air Force.

Based on the Sukhoi Su-27 Flanker air superiority fighter, the Su-34 has an armored cockpit for side-by-side seating of its two-man crew. The Su-34 is designed primarily for tactical bombing/attack/interdiction on solo and group missions in day /-nighttime under nearly weather conditions. It could operate in a hostile environment with counter-fire and electronic Warfare counter-measures deployed.

Zvezda is specialized in Russian/Soviet aircraft kits on a high standard. Looking at the box art of the kit, you`ll see the a actual version oft he Su-34 during a bombing raid over an desert environment.

But opening the box you`ll find the 1995 (!) Italeri tooling SU-34 which is mostly based on prototypes and pre-production aircraft. Indeed, a nice Kit, which I built years ago, but I want to built the actual version. The 2019 Zvezda Kit does NOT include a single one of the special changes that are installed in the current version.

Especially the long 'Khibini' electronic warfare wing pods I missed very much!

The cockpit is ok, but not more with simple seats and no belts. There is no decal for the instrument panels or side consoles, which you`ll find in nearly all of the newer Zvezda Kits. Intakes are fairly short and there is no trunking. Exhaust are made of three pieces.

Gear bays have no real detail, For weapons you get a pair of laser guided bombs, two air to surface missile types along with medium and short range air to air missiles. A selection, as you could see on pictures of the first prototypes.

Instructions are a single piece of folded paper with nine well drawn construction steps. Paint references are in Humbrol colors and the only camouflage option is the latest dark blue grey over a lighter blue. To match these colors I use colors from the Hataka Blue Line Ultimate Su-34 Paint Set. But looking to the reference photos oft he Middle East Air Bases, in my opinion the Dark Grey "Eggplant" Color faded very quickly to a Medium Grey.

The Zvezda decals are very nicely printed and provide lots of stencils. Four different bort numbers are provided.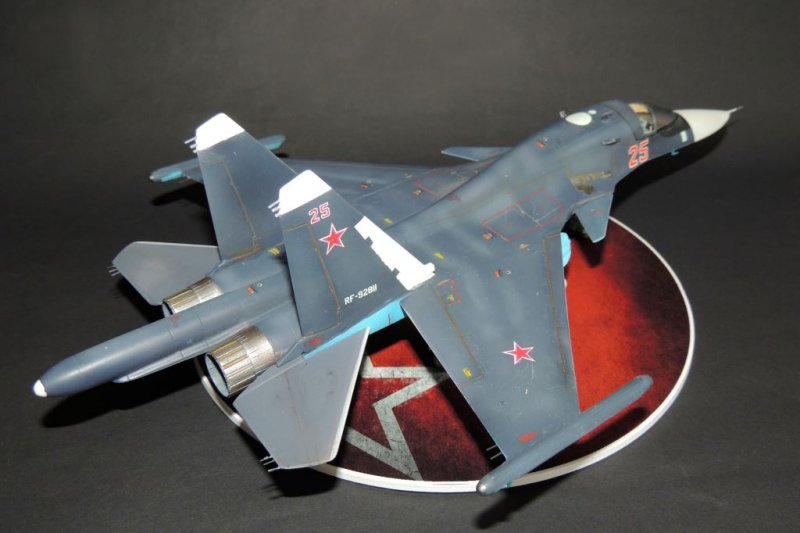 So now back to the main problem: How to convert the kit into an actual Su-34? Fortunately, after an intensive internet search, I found the great Russian company:
These are great guys with a great homepage and everything (!!) you are looking for, when you want to build russian military aircraft. Very quickly I got everything directly from Russia to start the built. Thanks again!
So here is my list oft he used aftermarket products:
tempmodels No. 7242 Su-34 resin cockpit set

tempmodels No. 72341 Su-34 Khibini ECM pods

tempmodels No. 72346 Su-34 Wheel Set

ResiKit No. RSU72-0006 Su-34 Exhaust Nozzles Upgrade Set

ResiKit No. RS72 -2- KAB-500KR Television Guided Air Bombs

Master Model Su-34 Brass Pitot Tube.
After I had installed all this resin and metal parts, finding the right colors, finished all with the right weathering, I think I had a handsome replica of a current Su-34. At the end I`m pleased with the finished model, but I think Zvezda could do more! To rebox an over 20 year old kit is not worthy of this company. I hope hope they read the reviews on the internet and revise this kit in the near future.
Gerd Wilcken