Hi Guys, My second entry for 26 Jan 2020 Republic day.

I wanted to build this Spitfire Mk VIII very quickly, however, I couldn't complete as I wanted and there are few reasons for it. I started one Friday evening and I wanted to complete it but rain was spoiling my mood then the rain stopped and I was in lazy mood to complete it but took some pictures and I realized it looks to plain can't blame it as it was Arii kit and it doesn't come with any stencil or extra parts heh that is what you get for the price which is too good. I borrowed some stencil from my Eduard MkVIII kit to spice it but a bit.

I Choose to paint the aircraft the NH 631 of the IAF with number 65, the number 65 is painted and it is not a decal. There were some problems with fit and need to do some dry fit, especially the wing area.
I use Tamiya silver as base and gunze for silver paint. I kept a very subtle weathering as I wanted to highlight more of the metal parts. Like I mentioned earlier I paused again, as the finish model lack stencils, there were only two solutions print or buy it. I choose to print, I already have Eduard leftover and few stencils I printed it and applied to the kit. Now, I need to add the walk line I cut thin strips from a black sheet and work like a charm, I need to careful tho other the line doesn't look straight.
Here it is the NH-631

Little anecdote about the aircraft from Bharat Rakshak on Nh-631
NH 631

The only flyable Spitfire in India, it began life with the RAF on 16.12.44 and arrived India on 19.2.45 for 151 OTU. It was loaned to the IAF around 5.46 and is known to have served with Nos 9 and 2 Squadrons IAF. It was finally transferred to the RIAF on 29.12.47 and moved to No 1 BRD on 22.11.49 and then to HQ Maintenance Command flight at Kanpur in 1950. After being scrapped, it was recovered by Air Cmde Harjinder Singh (the first "Hawai Sepoy" or Airmen of the IAF) and was test flown by the great Suranjan Das (later of HAL Marut fame) before being flown by Air Cmde Harjinder Singh to Ambala to receive his IAF wings brevet. The aircraft carries a plate under the nose carrying the inscription "Plumber" as this was the call sign Of Harjinder Singh (Plumber 11). This aircraft was moved to the IAF museum in 1967.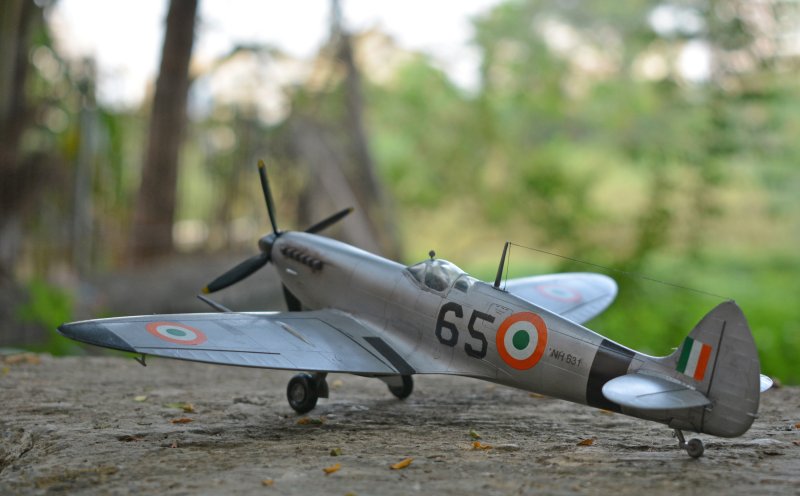 During the IAF's Golden Jubilee on 8.10.82, the Spitfire (along with a Harvard, Tiger Moth, HT-2 and Vampire 52) was restored using Dakota, MiG 21, Kiran and Otter parts and flown as part of the IAF's Historic Flight till 1989. During its "second birth" in the 1950s the aircraft would most probably have been painted in an all silver scheme as shown below, but was painted incorrectly in the scheme that it appeared-in in 1982.
Cheers
Tom Thounaojam