In addition to using the EE Canberra as a bomber, and the Douglas F4D as an interceptor, Jamaica beefed up it's capabilities with an attack aircraft, procuring the Sea Hawk from Great Britain. These were not modified from their naval role, nor was the marking scheme; grey over white.

The British style vertical stabiliser was retained, but it was decided to follow the example of the German Bundesmarine and utilise the EKCO search radar pod as fitted to their Mk. 101, giving them a bad weather capability should it be needed during hurricane season. The other hard points were taken up with a 90 gallon drop tank and two 500lb bombs.

#3 squadron operated the aircraft in three 'flights', with two based at the airport in Montego Bay, and a third at the former USAAF base at Vernam Field, on the south coast. Each flight was marked as per the colours of the Jamaican flag, as Green Flight, Yellow Flight, and Black Flight, with each sporting a coloured fuselage band as an identifier.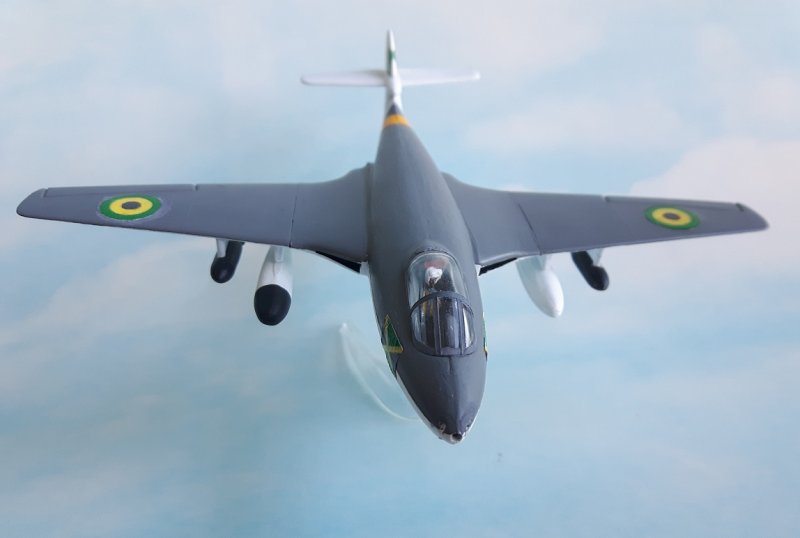 Yes, the markings look like crap. I need lots of practise at making decals, and for some reason the paint did not work right, when they've been fine with other models I've recently built. I guess this particular one was cursed for some reason or other. But I'm not about to start over, just use it as a learning experience. It's the old old old Airfix kit, a nostalgia build more than anything. Hard to notice through the canopy, but the pilot is dark-skinned, no white-washing by this kid.
Dave Bailey