Just after the end of WWII, my late father was stationed in southeast Asia with 209 Squadron, Royal Air Force, as pilot on Short Sunderlands. At that time there were still many different types of aircraft, from both sides, left over from the conflict and awaiting disposal, evaluation, or disposition. Japanese aircraft were painted in surrender colours of overall white with green crosses, as seen in this picture taken somewhere in that area.

While photographing these with his trusty Zeiss Ikon camera, using half-frame 120 film, he was alerted to the presence of another aircraft in the sky when a small contingent of emergency crews rushed past him toward the runway. It was a mere speck at that distance, so he waited patiently to let it land and see if it would come closer.

A firm hand on his shoulder was accompanied by a rather burly arm reaching around and taking the camera gently. It was a military policeman, who said "Sorry Warrant Officer, but instructions are that there are to be no photos of this aircraft, and best you forget you've seen it. In fact if he hadn't had a landing gear problem you never would have, he would have just kept on going."

"What's the problem with the aircraft?" asked Dad, ever the mechanic he had grown up as. "Landing gear trouble, I heard," said the MP, "Apparently hit something hard on the grass strip he left and couldn't retract it properly. That's all we know, and all we want to know. I'll give you your camera back once he's in the hangar."

His oath to his country didn't end when he was demobilised in 1946, and Dad almost took his secret to the grave. But in his later years he decided that he could open up, and told me about it. A Commonwealth Boomerang, recently retired from RAAF service along with all is stablemates, had been purchased, or maybe purloined, or maybe even loaned, to the Chinese nationalists fighting against the communist forces. The reason for the secrecy was that it had already been painted in Chinese markings, unprepared for prying eyes.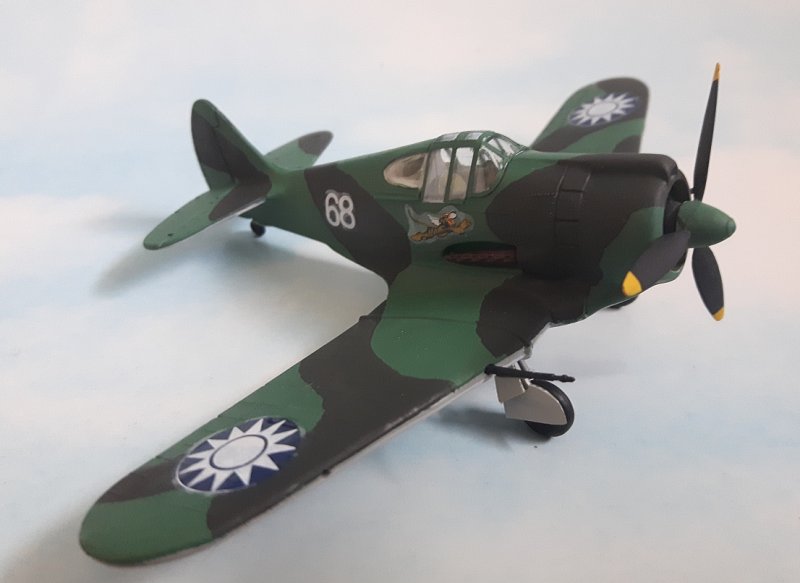 I surmise that the whack to the undercarriage had maybe put too much pressure on the oleo and popped it, because Dad said it had a bit of a lean to starboard as it taxied in. So I have modeled it this way, and I hope that the pilot survived any future adventures.

BALDERDASH! I have no idea how one gear leg came up shorter than the other, but it's probably my mistake somehow, so I incorporated it into the back story. But, is the overall story true, or false? Only I know…

Obviously the old Airfix kit, which I started to build over 20 years ago, before I knew that CA glue fogs windows, that's why the rear ones are steamed up.

Paints are Poly Scale Signal Green, Tamiya XF-61 Dark Green, and Model Master 4765 Light Gray, with decals from the Academy 1/72nd P-40B.
Dave Bailey