The DFS Olympia Meise (Meise = tit) was designed in 1938 for the Olympic Games in 1940 which did not take place anymore. The plans were given to several countries, so that the participants of the competition could fly all the same plane.

The parts fit well, and the model has a very lovely detailed surface. The control hook-ups, the venturi tube and the protectors of the wing tips I made from stretched sprue.

A bit more work caused the canopy. A transparent part shall be glued between the leading edges and a part of the canopy itself is placed below. So there would be a lot of transparent material where the head of the pilot should be. So I removed material in the middle of the transparent part connecting the leading edges and made a deepdrawn canopy by myself.
I liked the colorful Czechoslovak paint scheme which is offered by AZ (markings for 3 others are included: UK, Denmark and Finland). I used colors from Humbrol and Revell to paint my model with brush.
After attaching the decals, which were printed in a high quality) I sealed my model with silk, clear varnish from Mr. Hobby.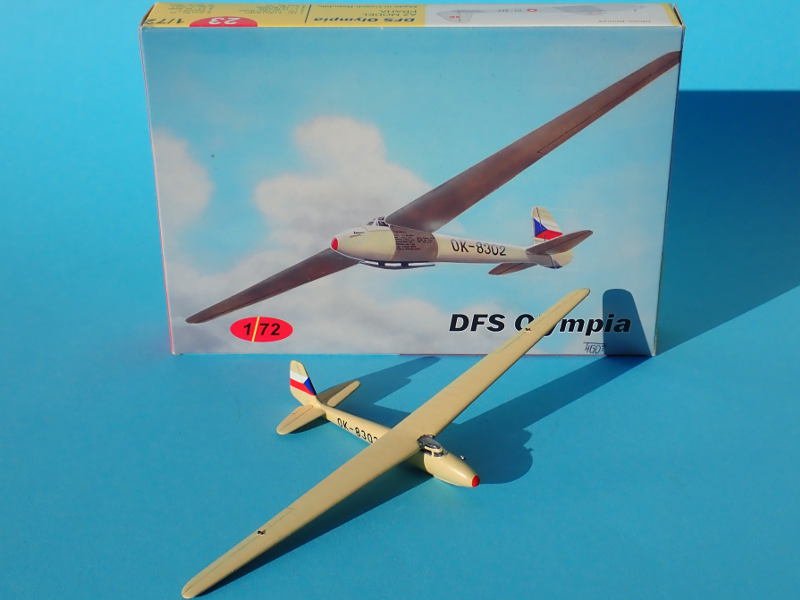 I enjoyed making this beautiful historic glider within a few days. For beginners or less experienced modellers who want to use the transparent parts from the kit I recommend to paint the areas where they touch in a gloss black or very dark grey on the inner sides, to achieve a better depth effect.

Greetings from Germany
Thomas Brückelt