Jet Provost T.Mk.52, Venezuelan Air Force
The English Hunting Percival (BAC) Jet Provost T.Mk.52 training aircraft, was used by the FAV (Venezuelan Air Force) during the 60-70s:

The Jet Provost served as an advanced training jet aircraft, by the Venezuelan Air Force. This aircraft, British manufacture, also operated, in several versions, in the RAF from 1955 to 1993.

In 1962 Venezuela imported Jet Provost in the T.Mk.52 version. Fifteen aircraft operated as an advanced trainer. Jet Provost has a privileged place in the history of the FAV, since in its useful life it did not have any fatal accident. In 1977 they were taken out of service, being replaced by the North American T-2D Buckeyes.

To build this Jet Provost T.Mk.52, serial E047, I used FLY model kit, in 1/48 scale; which I consider to be of very good quality model. I also used acrylic paints from Model Master (Testor), and homemade decals. Some small details were "scratchbuilt".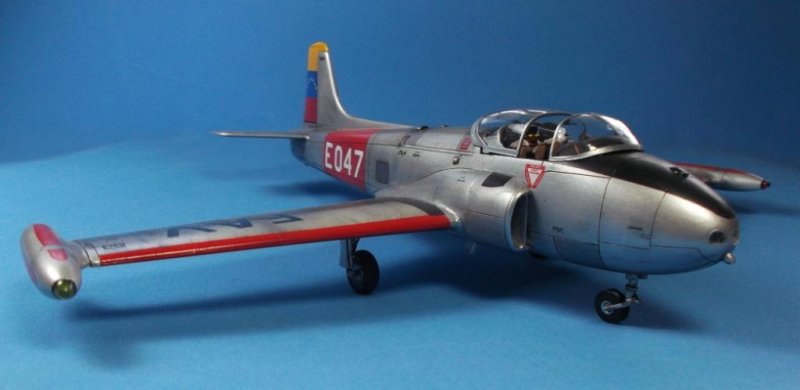 APPENDIX:
This past December 10th. 2019, the Venezuelan Air Force (FAV), reached 99 Year Anniversary. Military Aviation started in Venezuela on December 10, 1920, when the Air Force Academy was established. Starting this week, and to commemorate the 100 Year Anniversary in 2020, I will be posting FAV aircraft, from my 60 different airplanes and jets 1/48 scale models collection, a couple of them "scratchbuilt". My FAV collection includes: Hanriot 1, Breguet 273, Fiat CR.32, Fiat BR.20, Thunderbolt P-47, B-25 Mitchell, PT-19 Cornell, Grumman Tracker, F-85F, F-86K, Vampires, Venom, TD-2 Buckeyes, Tucano-317, F-5, Mirages, F-16, Texan T-6, Sukhoi-30 and many other. Almost all aircraft used by Military Venezuelan Aviation.
RSK48, Rafael