The Hopeless Diamond was the first design of a stealth aircraft which led to the Lockheed XST "Have Blue" and later to the F-117.

It never flew, it surely was too instable for any fly-by-wire system. But very successful stealth-tests were made on the ground.

So I made a fictional, flying test plane out of the Unicraft resin kit.

The parts are very rough, and some areas were bended. The rear half of the lower fuselage I replaced by scratch built parts. Inside the cockpit I added an ejection seat and a pilot figure. Stick and thrust levers make the cockpit more realistic. I used decals from another kit to show the instruments and sidepanels.

Also the areas of the intakes I milled, because their surfaces were not smooth. I glued in plastic sheets and imitated the grids with self printed decals. Inside the rear area I added nozzles, so that you can see some realistic structures when you look inside from behind.
A wooden block with a silicone tube inside was glued inside the fuselage, so that I could plug in the display, later.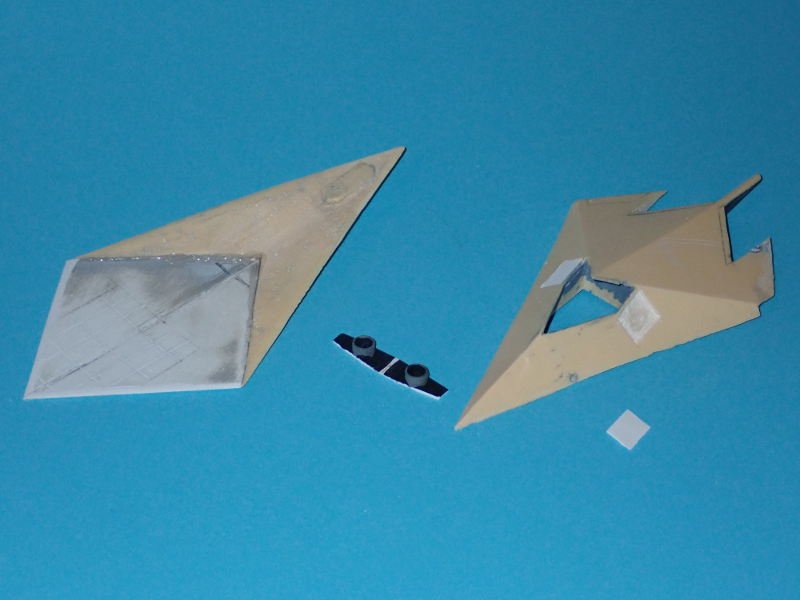 A lot of filler was used and sandpapering was necessary to bring the model in a good looking shape. The transparent part looks good and matches well when it´s carefully adapted.
All the engravings and the pitot tube I also made by myself. A landing gear is included, but I preferred to show the plane airborne.
The model was painted with brush and colors from Humbrol and Revell. The decals are from other kits or printed by myself (intakes and skunks). Finally the Hopeless Daimond was sealed with flat, clear varnish from Tamiya.

It was a challenging project, but now I have a very unique design in my collection!
Greetings from Germany
Thomas Brückelt