The Blohm & Voss BV P.213 was a planned interceptor, equipped with a pulse jet (Schmidt Argus As 014) and armed with a MK 108 (cal. 30 mm). The project was started in November 1944 and canceled only one month later.

Airmodel offers a reworked version (more details, better resin) of the kit since the end of 2018 ( see here: https://www.airmodel.de/product_info.php?info=p110_blohm---voss-bv-p--213.html ), I made my model from the old one.
I made sidepanels and a gunsight for the cockpit. I filled the space in front of the instrument panel with some lead, to avoid that the model drops on its tail.
I drilled the intake a bit deeper to make it looking more realistic. Further I made the nose landing gear leg ~ 2 mm shorter, so that the nose doesn´t come up so much.

On the outside I added the pitot tube (stretched sprue) and the barrel of the MK 108 (canula).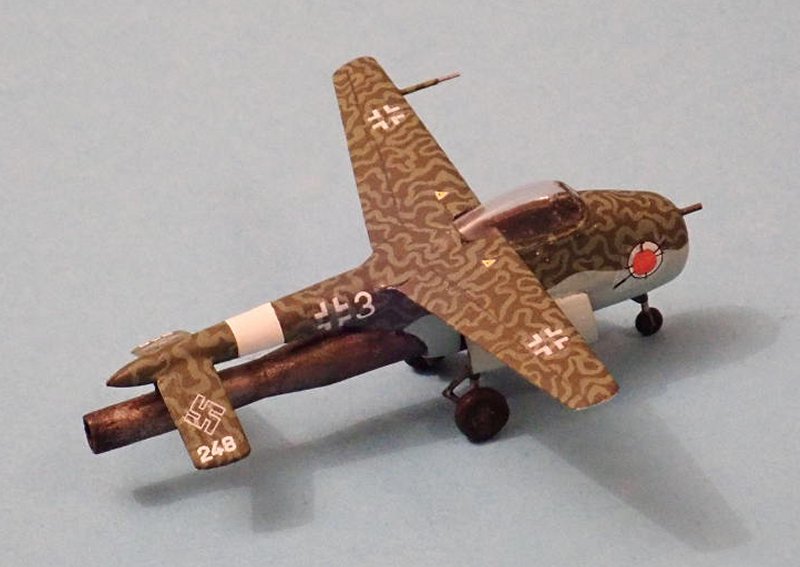 The model was painted with brush from Humbrol, Mr. Hobby and Revell. Most of the decals come from Peddinghaus. I sprayed clear, flat varnish over the little fighter.

I enjoyed very much building this very unique looking project fighter.

Greetings from Germany
Thomas Brückelt